Grab all current Making Sense of Affiliate Marketing Course coupon codes HERE. You can also sign up to be notified whenever there's a sale going on.

This is a continuation of Making Extra Money with Multiple Streams of Income series, which will be going over more than 20 ways to earn money via multiple streams of income.
Affiliate Marketing for Newbies
Affiliate marketing is one of my highest sources of income. When I started out building my online income, I remember how excited I was when I earned my first $5 online. Nowadays, it looks something like this:
And that's just one payout from one source of affiliate marketing!
In the beginning, however, I had no idea what I was doing and went through a lot of trial and error before I started figuring out what methods worked best for my sites.
I really would have appreciated some kind of guidance or blueprint back then while I stumbled around on my own.
This is one of the reasons I love this course. If you're thinking of venturing into affiliate marketing as a newbie, I recommend Making Sense of Affiliate Marketing.
Use code APRIL2020CC for 20% off from Thursday, April 16 to Monday, April 20, 11:59 p.m. PT. Check it out HERE.
What is Affiliate Marketing?
In basics terms, affiliate marketing is when you refer someone to a product or service online. Once they make a purchase, you receive a commission from it without an extra cost to the customer.
That sounds simple enough but believe me, it takes a lot of enormous time and work from getting the potential customer to the product or service website to making a purchase.
How Does Affiliate Marketing Work?
When you sign up with a company – sometimes through a service or sometimes directly with them, you are assigned an affiliate link which you share with your customers on your website.
When they click the link, a cookie is activated for anywhere from 24 hrs – 60 days. If the customer makes the purchase during that time frame, you get a commission.
Every affiliate program is different and it's important to read the terms and conditions of each one to make sure you're not kicked out of the program for violating something you didn't know about because you didn't read the TOS.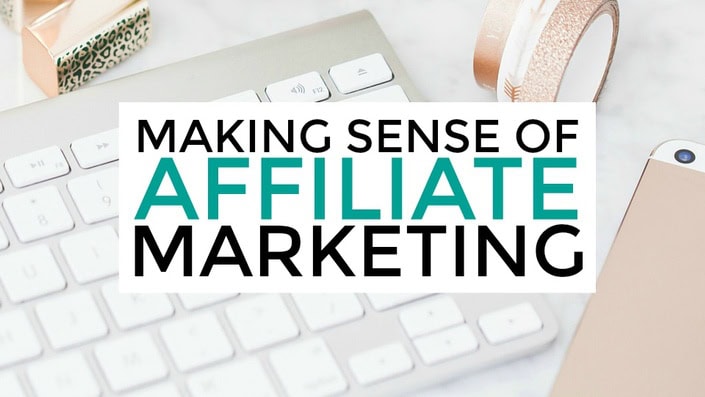 This course came to my attention a few months ago and I recently interviewed the lovely Michelle Schroeder-Gardner for the Entrepreneur's Talk series.
Michelle earned nearly a million dollars last year from blogging. That's right – nearly $1,000,000 and she has the income reports to prove it!
In the Making Sense of Affiliate Marketing Course, Michelle shares her secrets, best tips, the best tools and methods she used over the years to build her blog and turn it into a money-making machine.
I have been following Michelle for the longest time and didn't think twice about trying out the course because I'm always eager to learn new ways to do things better and more effectively; very important for a solopreneur with limited time!
The course is 100% text-based, which some people might not like but I love reading and find video courses slightly annoying. I just want to read the script and move it along.
The Making Sense of Affiliate Marketing course is self-paced. You go through it on your own time and at your own pace.
The course includes everything you need to know in a concise and compact way. You know how some courses fill their content with fluff just to make it appear longer? There's none of that here.

There's no dangling of looming closing dates to get you to sign up faster. It's open and you can sign up whenever you like.
The course includes:-
6 modules

Over 30 lessons plus worksheets

Course workbook

Bonuses worth over $500

Access to a private Facebook page where people exchange ideas and tips and much more.
There's also a 30-day refund policy if you don't absolutely love the course!
While I'm now familiar with a lot of the course material from experience, I still picked up some great tips regarding Pinterest, which I have since implemented with impressive results.
I was also able to improve my Facebook strategy and generate not more likes but messages from people interested in my products. This has of course transferred to more sales.
If you're a veteran and well-seasoned affiliate marketer, I'm not sure you would love it much but if you're a newbie to affiliate marketing, the Making Sense of Affiliate Marketing course is a beneficial place to start.
It's the type of course I wish I had in the beginning when I was floundering all over the web.

This course is invaluable for a newbie. However, let's be honest. You are not going to start making $50,000 a month as soon as you finish this course.
It took Michelle a long time and lots of hard work to get to that figure just as it's taken me a while as well.
What I can promise you though is that this course will enable you with the right information, tools, and tips, and point you in the right direction, which will save you a lot of time.
If you implement what you learn correctly, you will start to see a jump in your income as the months go by.
Are you ready to enroll?
Use code APRIL2020CC for 20% off from Thursday, April 16 to Monday, April 20 11:59 p.m. PT. Check it out HERE.
If you missed the sale, be sure to join the mailing list below so you can be notified whenever the next sale period rolls around.
Anna gave up her 9 – 5 to implement her life plan after paying off over $40,000 in debt. She started The Writer Entrepreneur to share her journey and encourage other people to pay off debt and pursue their life plans. She has been featured on HuffPost, YouQueen & Fitnancials among others. Learn more about Anna HERE.
This post may contain affiliate links which means I will make a small commission if you purchase through those links. Read full disclosure HERE.