Check out the top 10 benefits of Amazon Audible membership and how to get the best out of your membership.
I'm a big fan of paper books. I love smelling the crisp pages, feeling the pleasure gained from turning each page, and using my bookmarker.
Finally, when I'm done reading, I love stacking it away on my bookshelf to be read another day. Yeah I know, get a room :).
But seriously, I love my paper books. However, in recent times, I have had some difficulty reading as much as I'd like to so I began looking into audiobooks.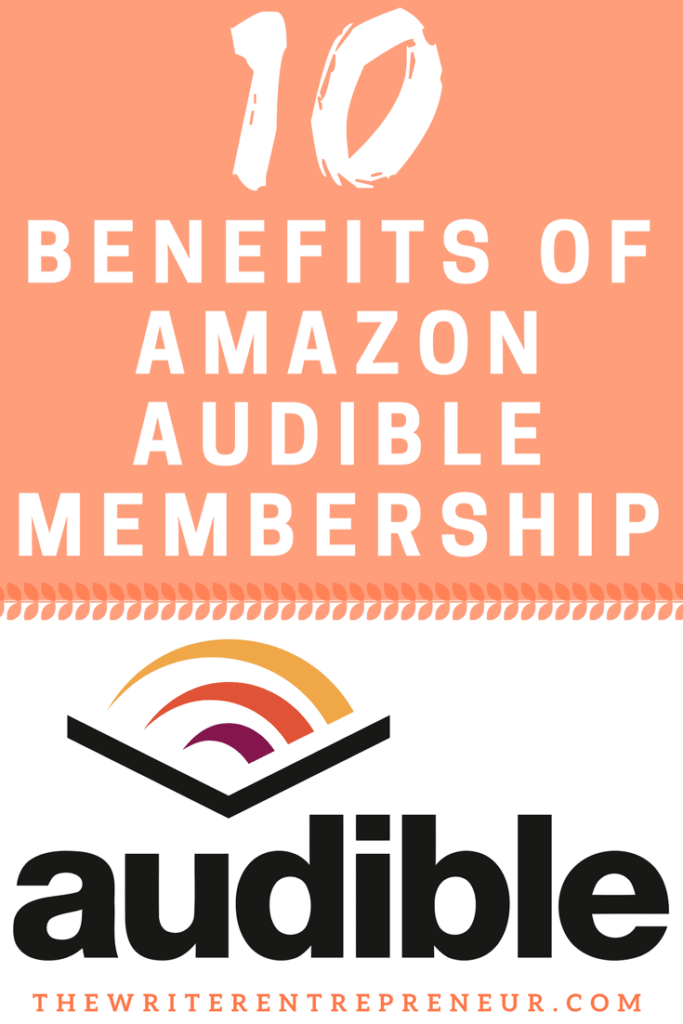 I was specifically interested in The Secret by Rhonda Bryne. I was going through something and wanted to absorb the contents of that book based on recommendations but I was too busy.
Additionally, I wanted something I could listen to while driving and in my sleep. I have a whole theory about listening to positive messages while sleeping and I'll expand on that later.
On initial research, I discovered the cost of buying an audiobook was high enough to induce heart palpitations.
I'm talking over $25 here! I continued digging and found a more suitable option in Audible, a subsidiary of Amazon.
How Much Does Amazon Audible Cost?
On signing up, you get two free audiobooks as well as a 30-day free trial. After the trial period ends, you have the option for three different plans:-
Audible Plus – This plan is $7.95/month and includes access to thousands of included titles in the Plus Catalog.
Audible Premium Plus – This plan is $14.95/month and includes the Plus Catalog plus 1 credit per month for any premium selection title.
Audible Premium Plus Annual – This plan is $149.50/year and includes the Plus Catalog plus 12 credits a year for any premium selection titles.
The plus catalog includes thousands of audiobooks, podcasts, originals, and more and all Audible members have access to it.
I signed up and downloaded The Secret, which was what I was interested in. I loved the experience and subsequently downloaded the second audiobook.
I stayed on after my free trial expired and I use my monthly credit for motivational stuff mostly.
Don't get me wrong, I still and will always love paper books and will continue to read them but I like having the option of audiobooks as well.
[Tweet " "The only important thing in a book is the meaning that it has for you," – W. Somerset Maugham."]
1. Amazon Audible is Budget-friendly
Starting from $7.95 per month with the first 30 days free, Amazon Audible is budget-friendly compared to buying all the books.
Amazon Prime members also get 2 free audiobooks when they sign up for the free trial.
2. Huge Library of Audio Books
Amazon Audible has a humongous library with over 180,000 titles. You could spend the rest of your life listening to stuff on there :).
3. Amazon Audible is Accessible on All Devices
The service is accessible on all devices – laptop, phone, and tablet as well as on Android and iOS.
You can also listen to your audiobooks via Alexa-enabled devices like Echo Dot.
4. Easy To Switch Subscriptions & Cancel
You can switch back and forth between subscription levels and cancel anytime without hassles.
You can also pause your Audible subscription package for a while. If you cancel, all the audiobooks you already downloaded will remain yours.
Just head over to your account settings to modify or cancel your Audible subscription.
5. Additional Impromptu Deals
Keep an eye on your inbox. Amazon sends out deals that will help you optimize and get the most out of your membership from time to time.
Some of these deals are quite good and you can get audiobooks for as low as $2. For instance, there are daily deals every Friday.
6. Get Audiobooks on Sale
Add the audiobooks you're after to your wish list and you'll be notified when they go on sale. In this case, you may be able to use your credits to get them for free.
7. Amazon Audible Provides Flexible Returns
If you don't like the audiobook, you can return it.
Audible provides a Great Listens Guarantee where you can return any audiobook within 365 days if you're not satisfied.
8. Listen to Celebrities Reading
Sometimes, celebrities are narrators in audiobooks as was the case with The Secret and I sort of liked it.
9. Read More Books With Amazon Audible
Technically, listening to a book isn't the same as reading but if you're a very busy person, listening might be the only way to get books into your life.
With an Amazon Audible subscription, you'll be able to do just that and add more books to your listening list every year.
10. Audiobooks Are Easily Organized
All your audiobooks are easily organized and you can download them to your devices and listen to them offline or on the go.
If you're too busy to settle down for paper books or e-books, try audiobooks.
The goal at the end of the day is the same – empowerment, knowledge expansion, and growth. Get started with your free trial HERE!
GET STARTED WITH YOUR AUDIBLE FREE TRIAL HERE
If you have a reader or writer in your life, you could also consider giving him or her an Audible Gift Membership.
You can give 1 month, 3 months, 6 months, or 12 months Audible membership as a gift.
Just select the preferred membership duration, choose the delivery date and Amazon will do the rest.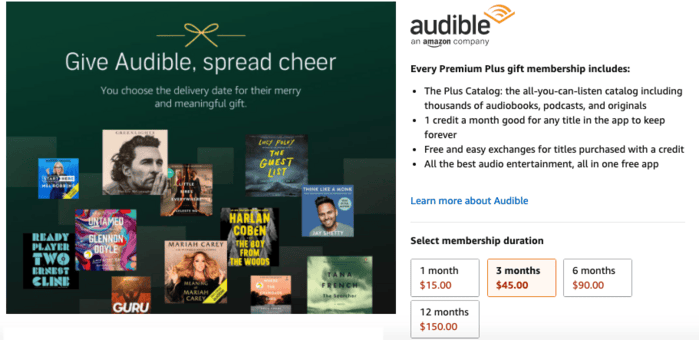 Read more articles from The Writer Entrepreneur.
This post may contain affiliate links which means I will make a small commission if you purchase through those links. Read full disclosure HERE.