To get the most bang for every buck you've allocated to marketing as a solopreneur, try these awesome 11 small business marketing ideas.
As a solopreneur, marketing yourself and your services is vital to finding customers but you need to make your limited funds stretch as far as possible.
When I started out, I had a small marketing budgeting and in trying to tap into every marketing avenue, I ended up blowing the money quickly without achieving much.
As time went on, I began learning the best ways to utilize my limited marketing budget every quarter. I'll start with the ones that cost more time than money:-
11 Small Business Marketing Ideas for Solopreneurs and Freelancers
1. Content Marketing is King
Content marketing doesn't cost much except time in research and creating the content. With content marketing, you can generate valuable high-quality content.
You can distribute this content on your website, other websites, trade magazines and social media avenues to create an audience with the ultimate goal of driving them towards engaging your services.
Content marketing takes time but with the right strategy in place, you will start to see results. If you're new to content marketing, have a look at this content marketing guide from Content Marketing Institute.
2. Search Engine Optimization
When you're creating your website, you should focus on search engine optimization. Using the right terms is vital to search engines being able to locate your business online & index your website.
If you don't know how to do this, you can learn the basics here – Beginner's Guide to SEO.
Otherwise, hire someone that can do it for you but this will eat into your marketing budget.
If you can spare the time, the best way is to learn and then implement it yourself. Word of caution here; no matter what you read online, do not try to game Google by manipulating your SEO.
They will find out and drop your website from their engine.
3. Maximize Your Online Presence
Make sure your business has a presence on every possible avenue online – Facebook, Twitter, LinkedIn, Instagram, Pinterest, YouTube, Google My Business, local business portals, etc.
Of course, it might not be possible to be active in all these every day but that's where automation comes in.
Read 4 Time Saving Social Media Scheduling Tools for Solopreneurs and Freelancers.
4. Quality Networking Events
Research, shortlist and make a plan to start attending quality networking events where the kind of people you want to do business with hang out. Attend local chamber of commerce events.
Don't try to attend everything. You'll get worn out and/or bored and give up along the way.
In the beginning, try to keep it to no more than 3 nights a week.
Have a strategy in place for meeting as many people as possible but try to get to know these people though. If they get the feeling you're just trying to sell them your services, it's a wrap.
Related Content: What Makes for a Successful Solopreneur?
5. Join Relevant Associations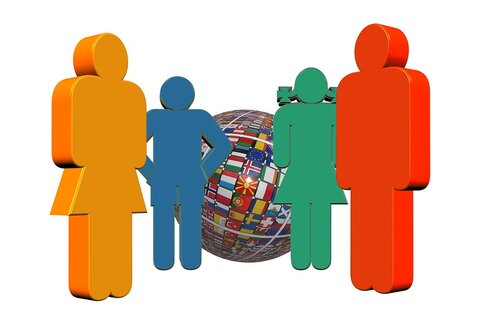 Join the associations related to your industry, make sure your services are listed on their online portal and attend networking events and conferences.
If there's an opportunity for you to volunteer your time as well, do so.
6. Join Relevant Forums
Join membership forums relevant to your business, be an active participant, answer questions, and offer value. If someone inquires about what you're doing, share your information with them.
Some forums allow for a link to your business in your signature. Offering value is important here.
If people get the idea you're on the forum solely to sell them something, it won't end well.
7. Ask for and Collate Client Testimonials
Speak to previous clients and ask them to provide a testimonial about your services. Upload on your website, across social media as well as any promotional items you might have.
It's a great idea to ask for a testimonial within a few days of service delivery. It might be harder to get it later on.
These are the marketing ideas that require time investment rather than money.
It may not be possible to engage in all of the above at the same time without getting overwhelmed so start with 2 or 3 and work your way up from there.
Let's go on to the marketing ideas that do cost some money:
8. Give Away Freebies
If you're a consultant, you can give free consultations to get the word about you out there or you can give away little gifts with your business branding on it at networking events or exhibitions. It doesn't have to be something big.
9. Offer a Referral Program
When I started out, I let all my contacts know what I did and offered to pay a referral fee of up to 15% for any business leads sent my way.
15% might look like a hefty fee but I was trying to create word of mouth fast and it worked.
You can create other types of referral programs if you like but the aim here is to offer a suitable incentive for referring someone to you.
10. Exhibit at a Business Event
Some groups and associations sometimes have an exhibition alongside an event and offer exhibition tables for a token fee.
Use the opportunity to meet the right people and introduce yourself to them.
You may also receive a list of attendees after the event so you can follow up directly with the people you want to.
11. Online Advertising
Find relevant marketplaces where you can place ads for your business. You can also advertise on social media channels like Facebook, Twitter & Instagram.
Be very careful with this. It can easily run into thousands without warning. Make sure you know what you're doing and if you don't, learn how before you jump into it.
This isn't an exhaustive list but as a solopreneur, your time is limited and you want to spend it on the most effective ways to market your business.
I have outlined the ways that worked fastest for me when I started out.
Do you have other small business marketing ideas on a limited budget? Share in the comments section and I'll update the list.
This post may contain affiliate links which means I will make a small commission if you purchase through those links. Read full disclosure HERE.