An earlier article covered Canva Pro in great detail at What Can You Do With Canva Pro? That article covered the pros and cons of Canva Pro.
I also shared some of the cool things you can do on the premium version of Canva. I'll be covering the various ways to sign up for Canva Pro for free for life in this article.
Signing up for a free account for life with Canva Pro is fast and easy. You can get started with creating and learning on Canva in less than 10 minutes and here are all the ways to do it in 2022!

How to Sign-up for Canva Pro for Free
Full account features are free for 30 days after sign-up. After 30 days, you can upgrade to the paid version or downgrade to the basic version.
Your choice depends on your creative needs. I share the differences between the free and paid versions in this article.
Canva Pro for individuals costs US$ 12.95/month but if you switch to annual billing, it comes down to US$ 9.95/month. That's about 23% savings.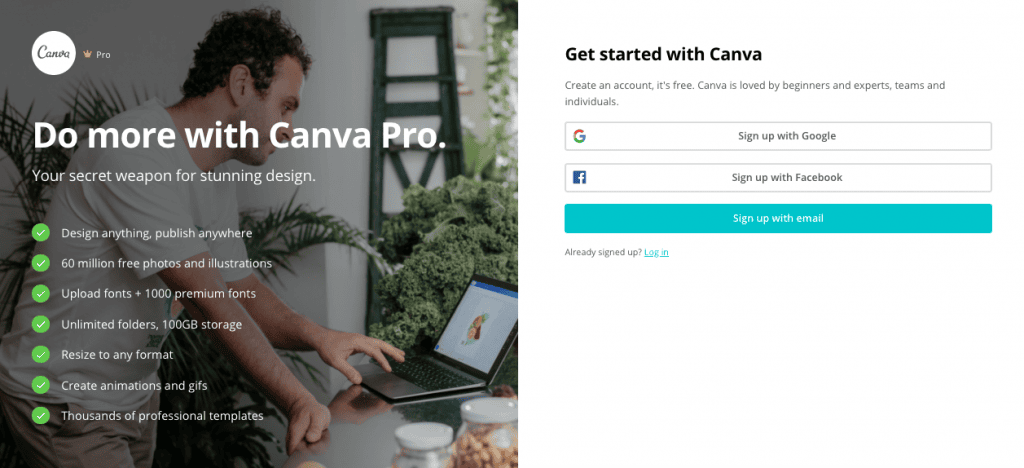 As of March 2020, Canva is providing free lifetime licenses to public health organizations to support the fight against the Coronavirus pandemic.
This initiative is part of the Canva Pro for Non-profits program, which offers Canva Pro to registered non-profits for free.
Several eligibility criteria must be met to participate in the program. This is to prevent abuse of the program. Eligibility criteria vary from country to country.
You can view full eligibility criteria for non-profits HERE. If your organization meets the eligibility criteria, just click "Register now for free" to get started.
Once your account is approved, the team will come back to you with approval and you can start enjoying your free Canva Pro account.
This is another free offering from Canva. They offer access to educators and students around the world for free.
That's right. You can access Canva for free from any country if you're an educator or student.
However, the way it works, teachers have to apply for access. After the account is approved, teachers can grant access for up to 30 students at a time.
Like Canva for non-profits, there are some eligibility criteria in place to ensure the system isn't abused.
The platform offers over 60,000 templates and over 2 million images among other elements to make learning fun and engaging.
In the advent of COVID19, they have also provided resources to enhance remote learning and teaching.
Once the team has verified the submitted information, you'll receive an email confirmation from the Canva team and will be able to bring your class onboard for free.
Canva for Enterprise is the supercharged option for corporate teams. The platform provides a team dashboard, approval workflow, locked elements, brand control, and much more.
This is the final way you can sign up for Canva for free. As a student developer, you can grab a year of Canva Pro for free.
That's all the ways you can sign up for Canva for free. If you have any questions, you can contact their Customer Happiness Team HERE.
For help after signing up, head over to the comprehensive getting started guide HERE.
Canva for Free Summary
To summarise below is a round-up of the 5 ways you can get Canva for free for life and you don't need a credit card to get started too:-
How Do Students Use Canva for Free?
Students can use Canva for free when their teachers sign up for a Canva Education account. Once the account is approved, your teacher can then invite students to join.
If you're a student and want your teacher to sign up for the Canva Education account, send him or her this link to create an account.
Is Canva Better Than Photoshop?
Canva is for non-graphic designers and non-techy people. Canva is simple and straightforward and isn't complicated to use for beginners while photoshop requires more skills and has a steep learning curve.
Whichever option you choose depends on your skill levels. While I have photoshop knowledge, I find creating on Canva easier and faster.
Can I Cancel Canva Free Trial?
You can cancel Canva at any time including the free trial. Just head over to the account settings before the 30-day trial expires to cancel. You can also delete your Canva account if you prefer.
Can Canva Be Used on Desktop?
Yes, Canva can be used on the desktop. I use Canva on my desktop for all my creations as I find it tedious to use on small screens.
Have fun using Canva!
Anna gave up her 9 – 5 to implement her life plan after paying off over $40,000 in debt. She started The Writer Entrepreneur to share her journey and encourage other people to pay off debt and pursue their life plans. She has been featured on HuffPost, YouQueen & Fitnancials among others. Learn more about Anna HERE.
This post may contain affiliate links which means I will make a small commission if you purchase through those links. Read full disclosure HERE.