I've been trying out Canva Pro for the past few weeks to get a feel of it before writing this Canva review so I'm going to be gushing about it a bit.
Canva Pro has gone from a mid-level resource to one of my top-level resources and I will explain why in this article.
If you're looking for an online resource that allows you unlimited design and customization options with free images, music, videos, and much more, look no further than Canva.

Canva is an online drag-and-drop design tool that allows you to create many types of visual content for your website, social media accounts, business, and much more.
Visual content is very important in the online world. A lot of times, enticing visual content is the reason people click through to your website or other places online.
I know when I see a riveting image on Pinterest, I click through to the website even if it doesn't have much to do with what I'm looking for.
The right image is worth a thousand words.
All the graphics on my website and social media were created using Canva. Canva is a very simple tool that can be used by anyone.

What is Canva Pro?
Canva Pro is the premium package provided by Canva where you have unlimited access to tools, images, style elements, illustrations, fonts, videos, and more.
CanvaPro has a massive collection of templates and designs across multiple categories you can customize any way you want.
After customization, you are able to download high-resolution PNG, PDF, and Jpeg formats of your files.
What Can You Do With Canva?
The question should be, "What can't you do with Canva?".
You can create graphics for social media, presentations, flyers, business cards, logos, and letterheads.
That's just the tip of the iceberg. Below is an outline of all the different types of templates available on CanvaPro.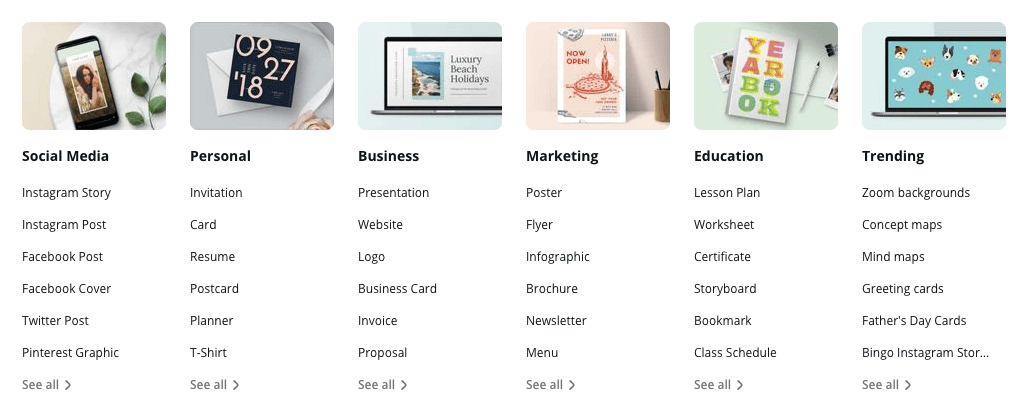 In addition to the templates, you can also discover a range of features you can use to optimize your graphics and make them pop.
Still scared about getting into CanvaPro? They got your covered with the Canva design school which offers free courses for newbies to Canva.

In addition to courses, Canva Pro also offers free tutorials and events as well as a regularly updated blog with Canva tips and tricks.
Is Canva Pro Free?
Canva Pro is free for 30 days so you can play around in there and decide if it's for you.
If you decide not to go ahead with the membership, your account will be downgraded to free status which comes with limitations.
Is It Worth it Paying for Canva?
Yes, it is 100% worth it paying for Canva. I started using Canva Pro to create videos for my courses and online channels.
This tool alone is worth the cost for me compared to other video creation tools like Lumen5, which comes in at $29/month.
I will create a separate post later on about Canva Pro video creation features.
Apart from video creation tools, creating graphics for a few of my Pinterest accounts has skyrocketed my follower rate and clickthrough rates.
Canva Pro is $9.95/month if you pay for the year. Paying for a year gets you up to 3 months free.
If you prefer to pay monthly, the fee is a little higher at $12.95/month. Sounds like a pretty good deal to me. The best part – you can try it out for free for 30 days.
START YOUR FREE TRIAL OF CANVA PRO HERE
What is the Difference Between Canva and CanvaPro?
Canva is the free version with limitations on what you can do as well as limitations on access to templates, graphics, images, etc.

If you want to access any resources or elements from Canva Pro, you will have to pay for individual elements starting at $1 each.
You can upload your own fonts on Canva Pro, which you can't with the free version. Additionally, you have limited access to Canva fonts on the free version.
You can resize designs with Canva Pro but with Canva, you have to go back to start from scratch to get a different sized design.
With access to over half a million images on Canva Pro, you won't need a subscription to another image site. That's killing two birds with one stone. You have access to images on Canva as well but there are limitations and you will have to pay for use of premium images.
Create a lot every month? Do the math. Instead of paying for individual elements, it's much more economical to go for Canva Pro.

What Are the Benefits of Canva Pro?
I get you might still not be convinced this tool is really a content creator's dream so here are some of the amazing features in a nutshell:-
1. Collaboration Features
You can collaborate with team members on Canva Pro. You can share access to designs, make edits, and comments.
If you have a team and you want to keep everyone in the loop design-wise, Canva Pro makes this easy and saves a lot of time.
You can add up to 30 team members to your Canva Pro account. You can only add 10 team members on the free account.
2. Organization Dream
Did I mention you can create as many folders as you like for your projects? If you're an organization weirdo like me, you will love this feature!
3. Unlimited Storage
You have unlimited storage for images you upload as well as any graphics you create. That's forever and ever free storage.
RELATED CONTENT: HOW TO GET CANVA FOR FREE?
4. Resize Anything
Another reason I switched to Canva Pro.
In the free version, you have to keep going back and forth for different sized images for different projects. This can get tiresome fast.
With Canva Pro, you can resize in the same window and download the same image in many different sizes and orientations.
It saves tons of time. Canva Pro calls this the Magic Resize.
5. Upload Your Own Materials
You can upload your own fonts, graphics, images, etc onto Canva Pro and create your brand kit so you can easily access when creating graphics for your business.
For instance, below is the brand kit for The Writer Entrepreneur-

6. Third-Party Integrations
You can integrate several third-party sites with Canva Pro. Just a few of them include Facebook, Twitter, YouTube, and Dropbox.
This is another Canva Pro feature that saves you a lot of time.
You have premium access to over half a million images, fonts, templates, illustrations, style elements, and much more.

8. Download Graphics in Different Formats
You can download graphics in different formats. You can also compress files or download them with transparent backgrounds.

Canva Pro has a fun color wheel you can use to play around with colors before deciding on a brand element.
You can then download your brand kit or save it in one of your folders on Canva.

The video creation tools in Canva Pro are awesome. You can create high-quality presentation videos, music videos, and video collages.
With thousands of tracks, videos, and templates to choose from, you'll be spoilt for choice.

When you're finished, you can download a high-resolution video without any branding. Check out their awesome video templates HERE.
11. Simplicity
The easier something is to use, the easier a content creator's life will be, and the faster you can get things done and out of the way.
The design interface of Canva Pro is easy to use and it doesn't take much to figure it out since it's mostly drag-and-drop.
Should you not be able to figure anything out, you can just go over to the design school or tutorials for help.
How to Sign Up for Canva Pro?
Excited to jump on Canva Pro yet? You can try Canva Pro for free for 30 days HERE.
Just go over to the Canva website HERE and create your free account to get started.
Can I Cancel My Canva Pro Subscription?
Yes, you can cancel your Canva Pro subscription anytime. Just go under "Billing & Teams" tab in your settings and adjust your subscription level.
If you have any questions about Canva Pro, go ahead and drop them in the comments section.
Anna gave up her 9 – 5 to implement her life plan after paying off over $40,000 in debt. She started The Writer Entrepreneur to share her journey and encourage other people to pay off debt and pursue their life plans. She has been featured on HuffPost, YouQueen & Fitnancials among others. Learn more about Anna HERE.
This post may contain affiliate links which means I will make a small commission if you purchase through those links. Read full disclosure HERE.