This article breaks down the differences between Placeit vs Canva and which is best for your needs as a freelancer and self-employed individual? Do you even need to choose between the two?
You'll find out your best choices by the time you get through this Placeit vs Canva article.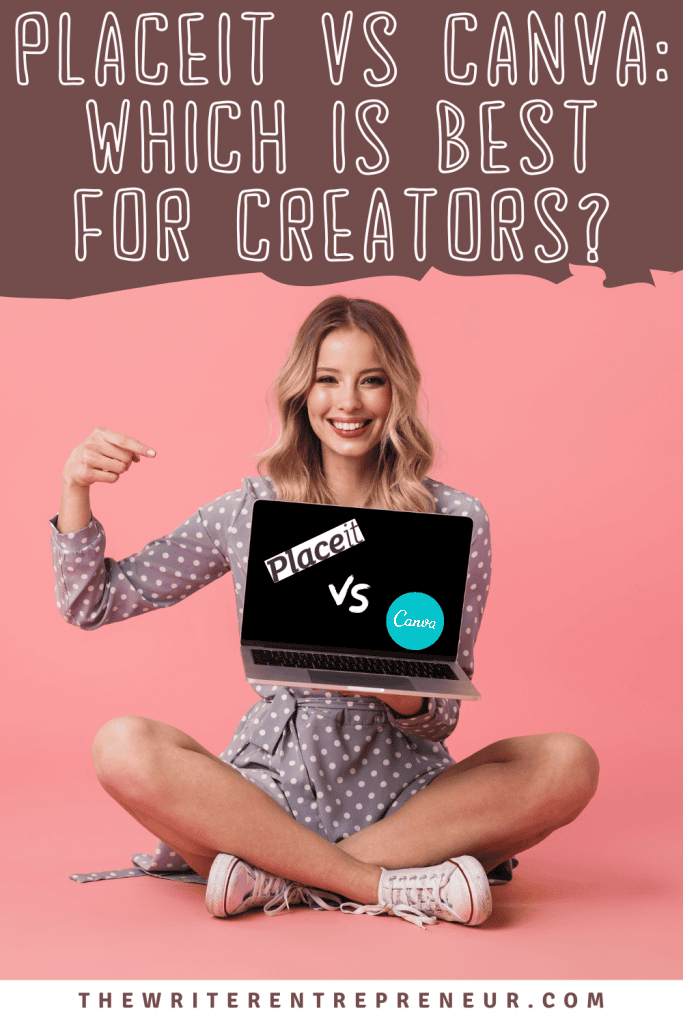 I have reviewed Placeit and Canva separately on The Writer Entrepreneur in earlier articles. You can catch up on those individual reviews at:-
Placeit vs Canva
When you are an online creator, one of the things you are sure to create along the way are mockups for digital products, physical products, social media, and much more.
When it comes to this, you want a platform that's easy to use, budget-friendly, and lets you get things done without wasting too much time.
Placeit and Canva remain two of the most popular websites for online creators to make unlimited designs for their purposes but which one is best for an online creator?
Can you get by with one or the other? Or do you require both to maximize your efforts?
This frequent question is why I've created this detailed breakdown of the differences between Placeit and Canva.
By the end of this article, you will have taken the guesswork on Placeit vs Canva and decided what option (s) works best for your business needs.
Placeit vs Canva – Pricing
Placeit
Placeit has a free account option as well as a paid version. With the free templates on Placeit, you can create and download mockups. However, the options are very limited.
To get the most of Placeit, you will need a paid membership, which works out to $14.95/month for a monthly subscription and $89.69/year for the annual version.
If you opt for Placeit annual subscription, the cost comes down to $7.47/month saving you 50%. Placeit also has sales during occasions like Black Friday and Cyber Monday.
You can customize and pay for individual elements but the costs for this can add up real quick and start from $3 for a design template to $40 for a logo design.

Canva also has a free version which is a lot more versatile than Placeit providing limited access to templates, elements, images, and more.
You can download everything you create with the free version of Canva without watermarks. However, if you use individual premium elements, they start from $1.
Canva pricing starts from $12.95/month and $119.40/year for an annual plan. If you opt for Canva annual subscription, pricing comes down to $9.95/month.
Canva might also offer a discount during occasions like Black Friday and Cyber Monday. You can join the mailing list so you're notified of sales events.
One major difference between the two is you can try Canva Pro free for 30 days without any commitment.
If you decide after 30 days the pro version is not for you, you can downgrade to the free account and continue using it.
You can also get Canva for free if you are a teacher, student, developer, or work in a non-profit. Learn more about how to get Canva for free HERE.

Placeit vs Canva – Template Library
Placeit
Placeit has a template library offering thousands of images you can use for products, apparel, social media, stories mockups, and more.
Placeit also provides a video library that you can adapt and customize for your requirements.
They are continuously updating their template library every week so you can always find something new to play around with.
Canva
Canva template library is more comprehensive than Placeit's and you can find a template for almost anything on Canva.
If there's no template, you have the option to create from scratch by piggybacking off another template.
In addition to logos, social media posts, etc, you can also create e-books, guides, book covers, magazines, and planners on Canva.
I used Canva to create the 2021 Goal Setting Workbook and Placeit to create the mockups.

Placeit vs Canva – User Friendliness
Placeit is user-friendly and doesn't require too many steps to achieve most of the creations on their website.
I shared a step-by-step on how to create a mockup on Placeit at Placeit Review – A Detailed Breakdown.
Canva
Canva is also user-friendly and is drag and drop and steps to creating designs are just a few clicks.
You can easily upload your own images and resize them as you see fit.
And if you get stuck anywhere while using Canva, there is an amazing design school with guides and courses showing you how to use many different aspects of Canva.
You don't need photoshop or graphic design skills to use either of them.

Placeit vs Canva – Product Mockups
Placeit
Placeit's biggest selling point is the ability to create mockups across all aspects with different models in different poses and actions.
They have thousands of these templates for laptops, smartphones, planners, apparel, and more.
Their mockup generator is instant and takes less than 10 minutes to create most mockups.
Canva
Canva's mockup capacity used to be limited but they partnered with Smartmockups a few weeks ago and you can now access mockups right from your Canva account.
You can also order these mockups from within Canva at very competitive prices and have them sent to you or someone else.
You can essentially use Canva for a POD business. How cool and efficient is that?
I've ordered business cards and a t-shirt through Canva before so I can vouch for the high quality.
You can learn more about the Canva partnership with Smartmockups here.
Placeit vs Canva – Third-Party Apps and Integrations
Placeit
The options for third-party apps and integrations are not available on Placeit as this isn't really what the website was created for.
However, it is possible this may be something they decide to add to the website later on.
Canva
Canva provides tons of third-party apps and integrations right within your dashboard.
Some of the third party apps and integrations include:-
Facebook
Instagram
Twitter
Pexels
Pixabay
Emoji
Google Maps
Google Drive
Dropbox
YouTube
Pixton
Typeform and more
You can view all the apps available on Canva HERE.
Placeit vs Canva – Graphics Downloads
Placeit
You can only download Placeit mockups in high-definition PNG formats. Videos are downloaded in MP4 format.
Canva
You can download creations in Canva in several different formats – PNG, JPG, PDF, SVG, and GIF while videos can be downloaded in MP4 format.
Placeit vs Canva – Resizing Artwork
Placeit
Placeit has an image cropper tool that you can use to change graphics to different formats for social media and other purposes.
You can also create a custom size for your images and mockups and upload a new image on the same page.
Canva
Canva has the magic resize tool, which has more advanced features than Placeit's image cropper tool.
The magic resize tool provides over 60 formats to resize your creations into. You can resize the image you're on or resize and click copy to open a new page with the new format.
The magic resize tool is an invaluable time saver if you're using it to create multiple graphics for multiple sources and purposes.

Placeit vs Canva – Organization Features
Placeit
The options to organize your files in Placeit are limited. It's just one page with all your creations in one place.
Canva
Canva is an organizer's dream. You can create multiple folders for different projects and different clients and find everything with the click of a button.
Canva also provides an excellent content planner.
Placeit vs Canva – Team Collaboration
Placeit
Placeit isn't really suitable for team collaboration and adding team members to your account to comment and make changes.
You can collaborate with team members on Canva. Team members can share access to designs, edit and make comments.
You can add up to 10 team members to your free Canva account and up to 30 members to the Canva Pro account.

Placeit vs Canva – Branding
Placeit
You can't really create a brand kit on Placeit. You will have to individually upload elements every time you want to create something or go back to previous creatives and change those up.
You can create an entire brand kit on Canva complete with colors, fonts, and style. This branding can then be used across multiple creatives.
This is a great time-saver so you don't have to manually do this every time you create graphics for your brands.

Placeit vs Canva – Customizations
The customization options available on Placeit are limited. Once you choose a specific template and add your images and text, there's not much else you can do custom-wise.
This is not a bad thing if you are happy with the template and just want something simple.
With Canva, you can fully customize any image, graphic, or video you create from a template. You can even start from scratch for your creations.

Placeit vs Canva – Speed
Placeit is a bit slower than Canva and some might find this frustrating if you're in a hurry.
Placeit vs Canva – Reselling Creations
You can resell graphics you create on both Placeit and Canva without any issues.
Graphics can be used for commercial, marketing, and/or advertising purposes without issues.
If you plan to resell videos with music, take a deeper look at the licensing permissions but it should be OK.
Placeit vs Canva – Summary of Features
Below is a summary of the features across both platforms and my score in the range of 1 – 5 with 5 being the highest:-
| | | |
| --- | --- | --- |
| FEATURES | CANVA | PLACEIT |
| Free Trial | 5 | 0 |
| Free Account | 5 | 5 |
| Pricing | 5 | 5 |
| Template Library | 5 | 4 |
| User Friendly | 5 | 5 |
| Product Mockups | 4 | 5 |
| Apps & Integrations | 5 | 0 |
| Graphic Formats | 5 | 4 |
| Resizing Graphics | 5 | 4 |
| Organizing Files | 5 | 2 |
| Team Collaboration | 5 | 0 |
| Branding | 5 | 3 |
| Image Selection | 5 | 4 |
| Reselling Creations | 5 | 5 |
| Customizations | 5 | 3 |
| Speed | 5 | 3 |
So Which is Best?
Placeit is primarily for mockups while Canva is primarily for design.
When it comes to versatility, design, and optimal efficiency, Canva wins but Placeit is also very useful.
The fact is you will likely need both Placeit and Canva if you are an online creator. And if you have an e-commerce store, you will definitely need Placeit.
If you already have a Smartmockups account then just Canva is fine as you can connect the two since Smartmockups is similar to Placeit.
If you don't have a Smartmockups account, you'll discover you still require certain elements in Placeit that may not be available in Canva.
I have annual memberships to Placeit and Canva and both of them are invaluable tools across my various online businesses.
Still unsure? You can create a free account on both and play around with it for a while before you make up your mind:-
Anna gave up her 9 – 5 to implement her life plan after paying off over $40,000 in debt. She started The Writer Entrepreneur to share her journey and encourage other people to pay off debt and pursue their life plans. She has been featured on HuffPost, YouQueen & Fitnancials among others. Learn more about Anna HERE.
This post may contain affiliate links which means I will make a small commission if you purchase through those links. Read full disclosure HERE.