This Placeit review goes into great detail about my experience with this online platform for online creators plus the pros and cons and how it compares to Canva.
If you're keen on DIY but you're a novice to creating designs online using design templates and mockup generators, Placeit is a great tool for you.

What is Placeit?
Placeit was founded in 2013 and is a comprehensive online one-stop destination for mock-ups, logos, design templates, and animated videos.
Placeit states, "Our teams marry design and technology to create high-quality branding and marketing tools so anyone from individuals to large companies can create amazing visual assets for their brand regardless of technical or artistic skills."
Placeit prides itself on its easy-to-use platform, a large collection of assets, and cost-effective branding, promotion, and marketing tools.
Placeit is a fantastic tool for bloggers, freelancers, independent contractors, and online creators.
What Can You Create on Placeit?
Placeit has over 5,000 templates for different projects. A crosssection of what you can create on Placeit includes:-
Logos
Album covers
Gaming creatives
Product mockups like hats, totes, mugs, t-shirts, hoodies, bottles, etc
E-book and book covers
Business cards
Flyers
Social media creatives
Videos
You can view the full range of possibilities with Placeit creatives HERE.
Placeit Review – My Experience
I started using Placeit when I needed to create a mockup for my 2021 goal-setting workbook.
For this, I used a spiral notebook template. Placeit let me know the image size required for the template.
I created this image in CanvaPro then uploaded it to Placeit and voila, I have my notebook mockup. It took me less than 15 minutes to get this done.
Below is the mockup I created on Placeit:-
There were also options to change the notebook color and insert text if I wanted. The final image downloaded is in PNG format and is in high resolution.
The same mockup template can be saved in your account and reused for different projects.
No design or photoshop skills are required to use Placeit. It's that simple.
GET STARTED WITH PLACEIT FOR FREE
Is Placeit Free?
Placeit isn't free but with a free account, you have access to free templates you can adapt for your purposes.
Once created, you can download any creations made with the free templates for personal or commercial use.
However, if you want the best options and features, you will need to subscribe to one of the plans available.
How Much is Placeit?

There are several subscription options for Placeit.
Subscriptions grant you unlimited access to all mockups, designs, logos, and video templates.
Sometimes, they run promotions during sales events like Black Friday where you can get an annual subscription even cheaper. You can cancel anytime.
If you don't want to purchase a subscription, you can pay for individual items. Individual downloads start from $3 for a design template and go all the way up to $40 for a logo.
GET STARTED WITH PLACEIT FOR FREE
How to Use Placeit?
Now to the fun stuff – how to use Placeit. I'm going to create a mockup of the same image above but with a model.
How to Use Placeit – Step 1
Sign up for a free account HERE. After your account is all set up, head over to the main page and search for what you're looking for.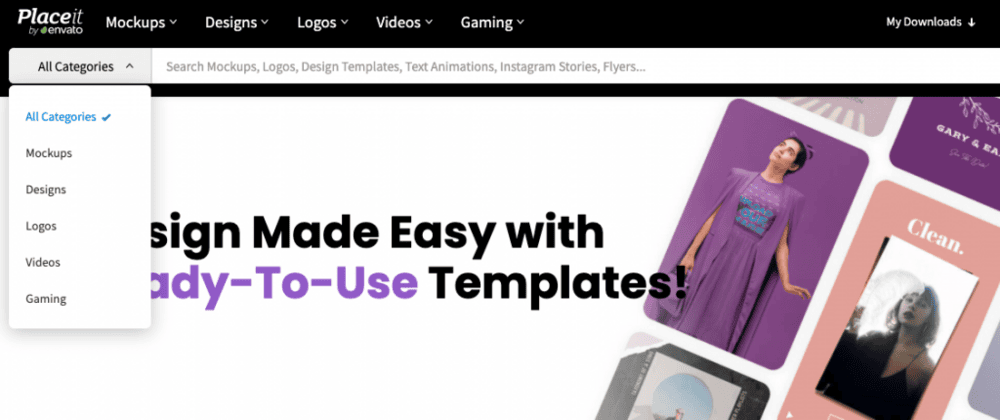 In this case, I searched for "model reading mockup".
When you roll over the mouse on an image, you can see how it will look like with a finished image.
How to Use Placeit – Step 2
After you choose the appropriate image, you'll be taken to a page with customizable options – image size, notebook color, the choice to add text, or a graphic.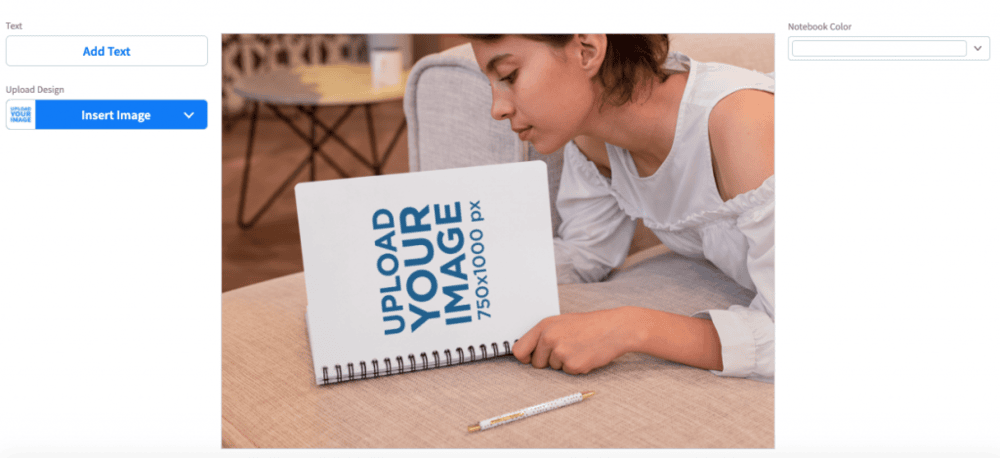 For this design, an image of 750 x 1000 px is required. I head on over to CanvaPro and create an appropriate image then download it in high resolution.
How to Use Placeit – Step 3
After downloading the image on Canva, I head back to Placeit and upload the image. If the uploaded image is the right size, there's no cropping required.
I then download the full mockup in PNG format. See below:-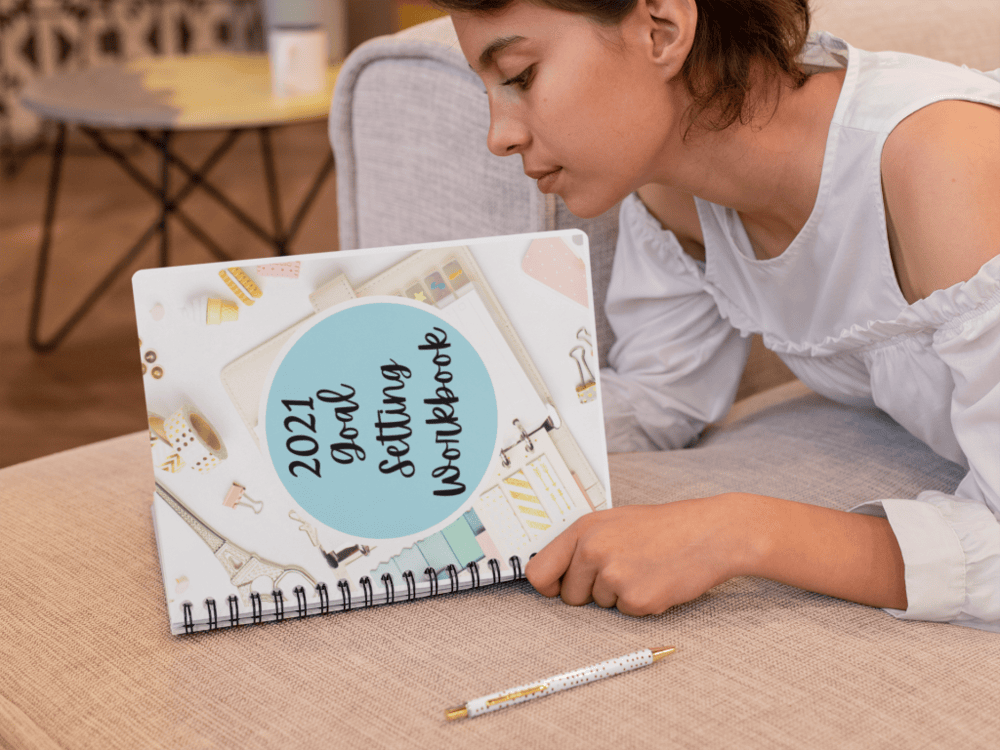 As you can see, it's a very simple and straightforward process that takes little time. The file can also be downloaded with a transparent background.
Before you download, you can scroll to the bottom of the page to see the same image in various other mockups with the same model or similar models:-

This is a pretty neat feature because if you like one or more of the mockups, you can click on it and download it without having to create any more mockups.
The process for creating logos, videos, and other creatives is similar to the steps above.
If you don't want to use the search button, you can click any of the elements in the navigation bar for a drop-down of available options.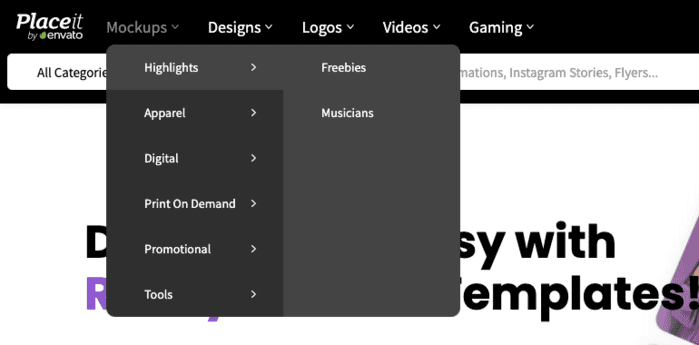 Placeit Pros
Budget-friendly
Placeit is budget-friendly at less than $7.47 for an annual plan. If you run an e-commerce store, the resources on Placeit will be invaluable to you.
Wide Variety of Templates
There are over 50,000 templates to choose from to create mockups, logos, videos, graphic elements, gaming, and more.
Easy to Use
No design skills are required to use Placeit. A lot of it is drag and drop and uploading images. There's little chance of getting lost or confused in the process.
Template Library Updated Regularly
The Placeit template library is regularly updated with hundreds of new templates so you'll always find fresh ideas for your projects.
Model Versatility
Depending on your industry, you want models of different ethnicities, ages, and genders. While the options aren't huge, they are available and easy to find with the search button.
Placeit Cons
A Bit Slow
The process of uploading and customizing your mockup as well as downloading on Placeit can be a bit slow.
Cancellation Issues
There have been complaints from people about their accounts still being charged after cancellation so you want to keep an eye out for this.
I have outlined the proper process for canceling your Placeit subscription below.
Model Diversity
The ethnicities of the models are not very varied although I believe they continue to improve on this.
I would definitely appreciate an improvement where model diversity is concerned.
Is It Worth it Paying for Placeit?
Yes, it's worth it paying for Placeit. In the online world where we always need mockups for printables, apparel, accessories, etc, Placeit is the number 1 resource for this.
Additionally, it's a cost-effective way to get these mockups done when you're just starting out and have a limited budget.
How Do You Cancel a Placeit Subscription?
If you're ready to cancel your subscription, head over to your username in the top right corner and choose "My account".
Scroll to the bottom and click "Cancel my subscription." You will be taken to a page that asks why you're canceling.

Depending on your choice, you have the option to pause the account for two months or go ahead with canceling.
You should receive an email afterward confirming your cancellation. If you want to be sure, you can also send an email to customer service about the cancellation.
There is also an option to delete the account. However, before you delete your account, ensure the subscription is canceled.
In the Cyber Monday sale, new customers can grab 50% off annual subscriptions and 10% off monthly subscriptions until Nov 30.
The discount is automatically updated on check out. BUY HERE.
Placeit vs Canva: Which is Best?
Placeit doesn't have the same advanced editing features and integrations that Canva has.
In comparison, CanvaPro is undoubtedly the king of online DIY design but Placeit also has its purposes.
For me, I create product mockups with different models engaged in different activities in Placeit. For everything else, I continue to use CanvaPro.
The two are invaluable to me as an online creator and I require both of them for my work.
The next article will provide an in-depth comparison between Placeit and Canva.
This post may contain affiliate links which means I will make a small commission if you purchase through those links. Read full disclosure HERE.