In this detailed breakdown, I go over GeneratePress, the free version and GP premium, the pros and cons of GeneratePress, and how to install GeneratePress without any hassles.
Besides Genesis Framework, GeneratePress is my other favorite framework for building my WordPress sites because it's so easy to install and set up.
You can also drop any questions you have about GeneratePress in the comments section and I'll be happy to answer.
What is GeneratePress?
GeneratePress is a lightweight, clean-coded, easy-to-use theme created by Tom Usborne.
GeneratePress is a plug-in unlike other frameworks and is under 10 KB in size, which makes it perfect for Core Web Vitals.
GeneratePress is one of the few WordPress plug-ins that has a consistent 5-star review because users love it so much.
GeneratePress works with all page builders and has extensive documentation and support system for customers every step of the way.
GeneratePress Features – 11 Reasons Why It's Awesome
1. GeneratePress is Easy To Use
GeneratePress is very easy to use. You don't have to touch a line of code or HTML with this theme.
Your website can be made to look however you want via the customizer option in WordPress.
Fonts, colors, backgrounds, layouts, and more are all available via the customizer.
2. GeneratePress Provides Impressive Support
GeneratePress has a support forum where the staff actively responds to questions asked by customers and provides detailed solutions every time.
I have never asked a question because every time I do a search in the forum, I find my question has already been solved and I just use that solution.
This is a great resource if you're a newbie blogger struggling with the basics of customizing your theme. Plus the support staff are very patient and helpful.
3. GeneratePress is Built to Perform
GeneratePress is built to perform. It's lightweight and super fast.
You can easily enable and disable options you don't want to use with just the flick of a button.
4. No Restrictions on Use
Once you purchase GeneratePress, you can use it on as many websites as you like.
I use GeneratePress on about 80% of my media properties with a single license.
Most themes limit the license to one website or only a few websites, which can get expensive very quickly.

5. GeneratePress Has Detailed Documentation
GeneratePress has some of the most detailed documentation on a WordPress theme online. There's a step-by-step for everything.
And if you miss a step or don't understand something, head over to the support forum for prompt assistance from the support staff.
6. Unbeatable Value
All the immense benefits available with GeneratePress come in at under $60 for the plugin.
Even though you have to renew the license every year, you will receive a 40% discount code around renewal time.
It's not mandatory to renew and your website won't stop working if you don't renew the license.
However, you won't receive any more plugin updates or support.
GeneratePress also offers a lifetime license. In this case, you pay a one-time fee of ($249) and you're done.
7. GeneratePress is Compatible With Common Plugins
There are a few standard plugins most people usually install on every website – AIOSEO, Yoast SEO, Rank Math, Akismet, Elementor or Beaver Builder, Lightweight Cache, WooCommerce, etc.
All of these plugins are fully compatible with GeneratePress. I use WPBakery Page Builder to build my pages and it works well with the theme.
8. Extensive Site Library
Once the GeneratePress premium theme is activated, you get access to over 30 pre-built templates in the site library.
You can import any of the pre-built templates and customize them as you like.
9. GeneratePress is Fully Responsive
GeneratePress is a fully responsive theme that adjusts to fit any screen size or device irrespective of your customizations.
10. Inbuilt Page Builder
GeneratePress can be used with Generate Blocks, a new plugin for building pages the way you like via drag-and-drop options.
Generate Blocks works very well with the Gutenberg editor and it's free as well.
11. Advanced Hook and Elements System
GeneratePress features an advanced hook and elements system that enables you to add anything anywhere on your website without needing to mess with code.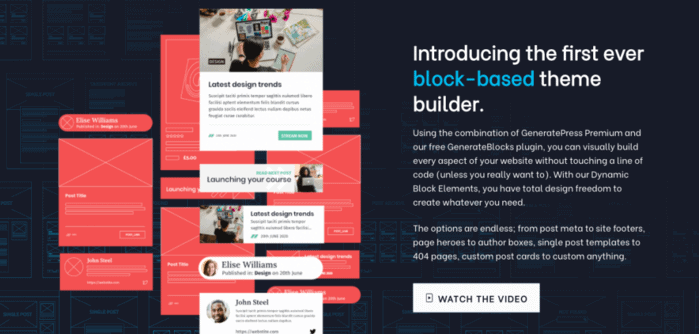 What's Not to Like About GeneratePress?
Free Version Has Limited Functionality
The free version is limited in functionality so it's best to just start with GP Premium from the get-go.
The Writer Entrepreneur is built on GP Premium if you're wondering what a GeneratePress site looks like.
However, you can view more GP Premium websites on their customer page HERE.
No Traditional Breadcrumbs
Traditionally, websites have breadcrumbs at the top of every page to indicate your location and how you got there.
GP Premium doesn't have the traditional built-in breadcrumbs. However, this can be added via the hook element if you really must have it.
The pros of GeneratePress far outweigh the cons and with over 1,000 five-star reviews, there's really no question about how great this blogging too is.
What is GP Premium?
GP Premium is the premium version of the GeneratePress theme. The premium version has all of the bells and whistles and premium support.
GP Premium takes GeneratePress to the next level and really brings your vision to life on your website.
GP Premium Price
GP Premium costs $59/year (sometimes less if there's a sale going on). For $59, you get access to:-
All premium features

A

ccess to the site library
1 year of updates
1 year of premium support
Use on up to 500 websites
30-day money-back guarantee
The license is renewable every year but they usually send a 40% discount code so renewal comes to around $23.
There's also an option of a lifetime license for a one-time payment of $249. You receive all the same features as the yearly payment.
Whichever one you choose is up to your budget and how often you will be reusing the theme on other websites or changing your site design.
If you change your mind after buying a yearly license, you can upgrade to the lifetime plan in your account and the cost will be prorated.
How To Install GP Premium
The first step to installing GP Premium is to purchase the license HERE.
After purchase, you can log into your GeneratePress account and download the GP Premium plugin.
The video HERE shows how to download the GeneratePress theme which is required to activate the GP Premium plugin.
To activate the GP Premium plug-in, head over to Plug-ins -> Add new -> Upload plug-in and add the plug-in you downloaded from your GeneratePress account.
Click install and the plug-in will be activated. Head over to Appearance -> Elements and start activating all the elements you want.
Don't forget to add your GP Premium license key so you can receive updates.
GeneratePress Site Library
GeneratePress site library contains over 30 professionally designed websites you can import and install with one click then start customizing to your taste.
View the GeneratePress site library in action HERE.
GeneratePress Free vs GP Premium
The difference between GeneratePress Free and GP Premium is in the features and customization options included.
The free version of GeneratePress includes:-
GeneratePress theme
Use on unlimited websites
Compatibility with page builders
Responsive
Layout control
Text or image logo (left-aligned)
Navbar options
Featured images
Footer widgets
Footer bar
Back to top button
GP Premium includes all of the above plus:-
Extensive site library
Blog
Color options
Typography options
Background options
Elements module
Hooks module
WooCommerce options
Spacing options
Secondary Navigation
Sections module
Enable or disable elements individually
Copyright option
One-click import/export option
As you can see the options on GP Premium are much more and quite versatile. You can watch a GP Premium demo HERE.
GeneratePress Coupon Codes – Up to 25% Off
There are times GeneratePress offers coupon codes on new purchases or lifetime memberships.
You can find any current GeneratePress coupon codes HERE. That is the direct GeneratePress page where all valid coupons are displayed.
At the moment, you can grab 25% off yearly or lifetime membership and $30 off upgrades from yearly to lifetime membership in the 9th Anniversary Sale!
The discount code is automatically applied when you check out. The offer expires on Monday, May 22. BUY HERE.
Is GeneratePress a Good Theme for Blogging?
I love GeneratePress for blogging. It's so easy to set up and start going ASAP then you can customize it as you go.
It's lightweight, fast, and very user-friendly. The extensive site library includes quite a few blog templates you can adapt to your needs.
Can I Use GeneratePress for Free?
Yes, you can use GeneratePress for free. You can download the free theme HERE.
With the free theme, you can build a basic site but for the full range of exceptional options and benefits, you will need to upgrade to GP Premium.
If you're looking for a lightweight, fast, easy-to-customize WordPress theme that complies with Google's Core Web Vitals as well, then GeneratePress is a safe bet.
Anna gave up her 9 – 5 to implement her life plan after paying off over $40,000 in debt. She started The Writer Entrepreneur to share her journey and encourage other people to pay off debt and pursue their life plans. She has been featured on HuffPost, YouQueen & Fitnancials among others. Learn more about Anna HERE.
This post may contain affiliate links which means I will make a small commission if you purchase through those links. Read full disclosure HERE.