Canva took their game to the next level by welcoming Smartmockups into the growing family a few weeks ago and here's why this is an awesome development.
With the introduction of Smartmockups to their online design platform, Canva provides a service that is comparable to Placeit, which I reviewed earlier HERE.

What is Smartmockups?
Smartmockups is an online design tool that enables you to create high-resolution mockups within one interface.
You do not require any design knowledge or skills to use Smartmockups and it is an easy-to-use drag and drop interface.
You can use Smartmockups to create stunning mockups for:-
Products such as cosmetics, beverages, supplements, bags, boxes, etc.
Apparel such as t-shirts, hoodies, face masks, tank tops, etc.
Technology such as laptops, smartphones, tablets, e-readers, and more.
Print such as greeting cards, books, frames, business cards, brochures, posters, and more
Household and lifestyle such as mugs, cushions, pillowcases, candles, and more
Social media such as Facebook, Instagram, Twitter, and more
Smartmockups has a library of over 6,000 types of mockups.
You don't need to have a Smartmockups account to use the app on Canva but if you have a Smartmockups account, you can integrate your design with Canva.
Does Canva Do Mockups?
With the addition of Smartmockups to the family, you can now create loads of different mockups on Canva.
The best thing about this development – Smartmockups is available to the entire Canva community, both free and pro plans.
How to Turn a Canva Design into Smartmockups?
To turn your Canva design into a smartmockup, follow these steps:-
Download your design as an image from Canva
Upload it back into the editor
Click effects and use the smartmockup integration to create your mock-up
Below is a quick visual breakdown of how to turn your Canva design into a smart mockup.
For this sample, I'm using a flower pattern motif for a mug mockup:-
Step 1
– Create Account or Login

Sign up for or login to your Canva account HERE and head over to the Smartmockups app. Choose the mockup you want to create and click.

Step 2 – Choose or Upload Template
After choosing the mug option, I upload the flower pattern template and choose a mug design from smartmockups. There are several mug options to choose from.
Step 3 – Edit the Design
For this design, I adjust the image size, background, etc.
Step 4 – Download Mockup
Once I'm satisfied with the design, I can download it in several formats – PNG, PDF, JPG, SVG, MP4, and GIF. All formats are downloaded in high resolution.
For this design, I downloaded it in PNG format. This is a simple design and you can definitely do a lot more than that with the smartmockups app.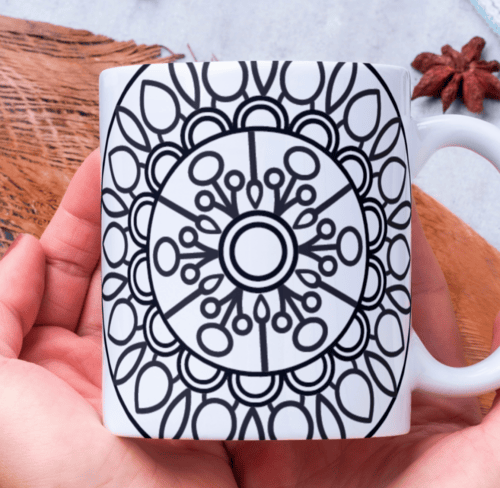 Start creating Smartmockups with a free Canva account HERE.
More Articles About Canva

This post may contain affiliate links which means I will make a small commission if you purchase through those links. Read full disclosure HERE.