Worried about social isolation on your self-employed journey? Here are 6 proven ways to help you overcome social isolation as a self-employed person.
When I began considering the move from the corporate world to self-employment, one of the things that made me apprehensive was the thought of social isolation.
While I loathed going to work every day, I very much enjoyed the company of some of my colleagues.
A morning coffee together in the pantry before the day commenced, a vent-things-out lunchtime break or hanging out at the local bar after hours to discuss work and life was an interaction I cherished and I knew self-employment was going to put a pin in that.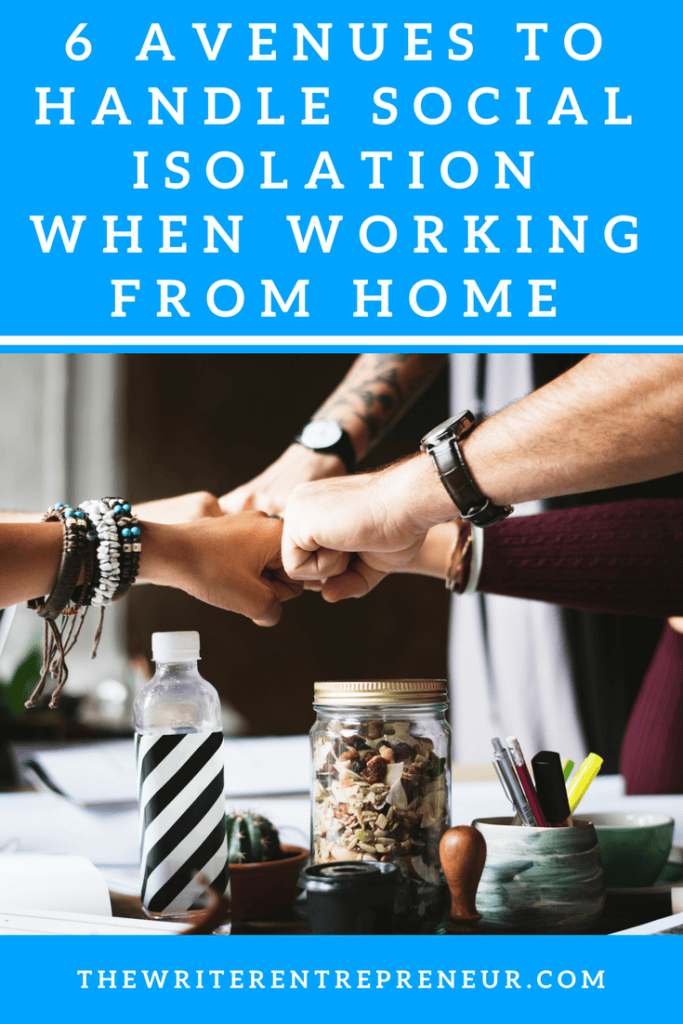 Rather than let the fear talk me out of self-employment though, I set about looking at alternative ways to replace the professional interaction with something else:-
6 Avenues to Handle Social Isolation When Working From Home
Meetup is an online social networking site, which facilitates group meetings offline between people who share common interests.
Each group is run by an administrator (s) who schedules regular meetups. Sometimes meets are free and sometimes a token fee is required to cover the cost of a drink or snack.
You can find a group for almost any interest/activity you have in mind. I joined both business and social networking groups.
I've ended up making friends with a few of the people I met at the social networking events and creating new business relationships via the professional meetups. More info about meetup HERE.
Internations is an online community for expats all over the world. The volunteers in charge of the group in each location organize activities where members can meet up and get to know each other.
Each local chapter also has private activity groups organized by members where people can meet up outside official Internations events.
Basic membership is free but payment is required to gain entry into Internations events. Entry is free if you become an albatross member, which starts at around $10/month. More info about Internations and joining HERE.
The popularity of LinkedIn has increased in the last few years. It's advertised as a strictly professional community but there are a few groups with common interests on there who also meet up socially.
I belong to one of them for people in the meeting and events industry as well as writers. It's a great way to introduce your services to people in a less formal setting.
You can also build connections for future relationships. If you don't have a LinkedIn account already, you should consider setting up one HERE.

Facebook is a huge time waster but if you can control the time spent on it, you can join relevant groups in your local area.
Facebook groups are an avenue to connect, collaborate and network with people with common interests and you can find any interest on there.
I'm a member of various groups for business and meetings management, which meets up every few months. Some groups meet up every few weeks or more frequently.
It's really up to the admin (s) goals and what the group as a whole are interested in. If you somehow don't have a Facebook account, you can create one HERE. You can provide only basic information to create the account if you're nervous about privacy.
5. Local Coffee Shop
I'm a big fan of working out of coffee shops. I hang out at my favourite coffee shops in rotation two to three times a week just to have the feel of the people around me.
I have my headphones on the entire time so the noise doesn't distract me. I've also made a few friends at coffee shops because they were there to do the same thing.
A plus is when the baristas identify you as a regular, they tell you about any freebies, deals, etc. Of course, buy at least a cup of coffee or water or something.
Don't just sit there for hours using the free wifi without buying anything. I bill my coffee as part of doing business. If your budget doesn't allow for this initially, start with some other activity on the list.
6. Local Business Bureau
You can register your business with your local business bureau or chamber of commerce. They organize business activities for their members frequently.
Depending on your location, you may be required to pay a token fee to register and have your business listed in their database.
You will meet many other small business owners in the same arena as you and develop professional relationships from thereon.
There are other social and/or professional interaction activities outside those mentioned above but I found these six to be the most effective plus they took up enough of my time anyway.
Any more would have turned into endless networking sessions providing a smokescreen for doing actual work.
At the end of the day, I still hang out with some of my previous colleagues from time to time for a drink or a night out. Sometimes good relationships transcend the office environment and continue long after you've moved on from a company.
My no 1 tip for beating social and/or professional isolation while working from home though is – do not hibernate at home for long periods of time.
After a few weeks or so, you really need to force yourself out of the house to go and meet and interact with other people. It's very important for long-term creativity and productivity. That's why these groups are so helpful.
If you have a morbid fear of breaking the ice and interacting with strangers, then I recommend Dale Carnegie's How to Win Friends and Influence People.


Image 1 credit | Image 2 credit
This post may contain affiliate links which means I will make a small commission if you purchase through those links. Read full disclosure HERE.