Did you know you can learn anything for less than $10 on this Udemy; a very popular website featuring over 60,000 courses?
I founded The Writer Entrepreneur in 2014. At the time, I had just left my soul-sucking job and was trying to launch the plans I'd been working on for so long.
I was super excited but I was also super scared. Nevertheless, I knew I had prepared myself for my new journey.
Learn Anything on Udemy
There were many tools I engaged with on my journey and one of them was Udemy.
Udemy is an online learning platform aimed at professional adults with a mission to "help anybody learn anything online."
Udemy boasts over 60,000 courses on just about every subject you can think of. When I needed to upskill on a budget, Udemy was the first place I looked at.
There were more than enough resources to teach me what I needed to know quickly and effectively without breaking my intending solopreneur bank.
I have reviewed two of these courses on the website already:-
They are two of the best courses I went through back then.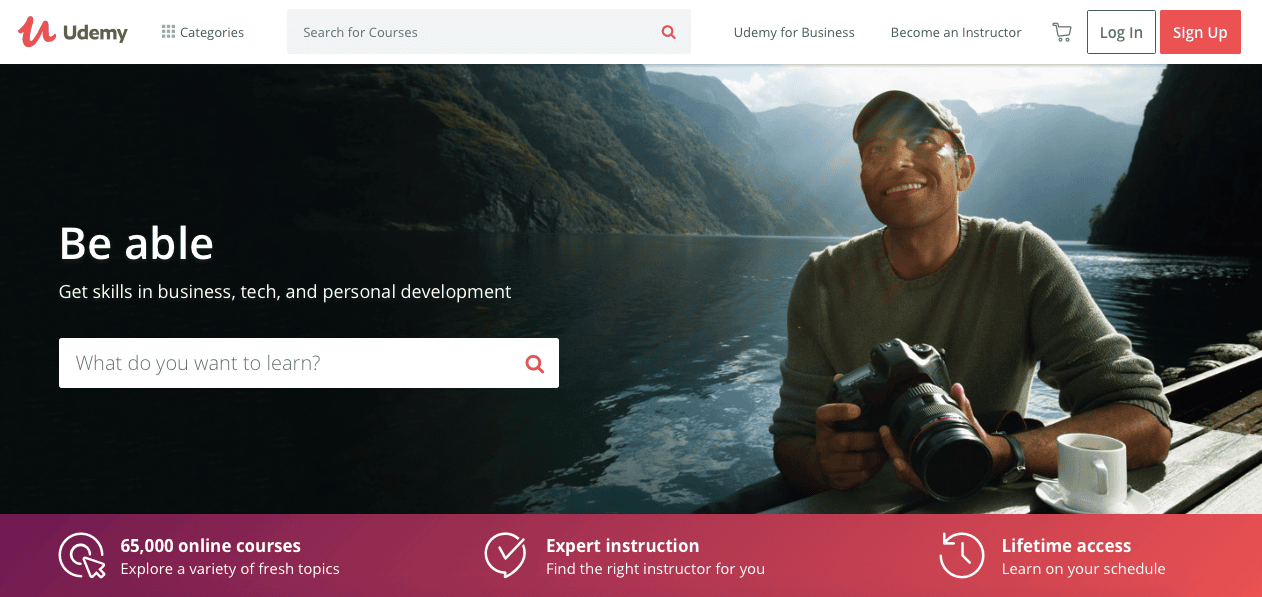 10 Advantages of Udemy Courses
1. Udemy Courses Budget-Friendly
Udemy courses are budget-friendly and cater to every pocket size. I needed to learn many things and I didn't have loads of money to throw at expensive schooling. Udemy helped tremendously here.
2. Immediate Start
You can start taking courses immediately once you pay. There's no pre-qualification required to access any courses.
3. You Can Access

Udemy Courses

Across All Devices
Udemy courses are available across all devices, which means you can learn while on the go as well.
4. Udemy Provides a 30 Day Moneyback Guarantee
If you decide not to proceed with a course, you can ask for a refund within 30 days even if you've already accessed the course.
5. Learn At Your Own Pace on Udemy
You learn and complete activities and assignments at your own pace; going back and forth between the materials as you wish.
6. Make An Informed Decision
There are tons of reviews available for you to read through before you purchase a course. This will help you to avoid courses that aren't up to par.
7. Free Previews Available on Udemy
If the student reviews aren't enough, there are also free previews of courses for you to view before making a purchase.
8. Communicate Directly With Instructors
If you have any questions, you can send a message directly to your instructor within the course section.

9. Research Before Buying

Udemy Courses
Before deciding on a course, you can also research your potential instructor online to find out what kind of professional chops he/she has.
10. Certificate of Completion
You will receive a certificate of completion for most courses. The certificate doesn't have academic merit and can't be used for college credit.
However, the point of Udemy is updating your skills or learning a new skill you can implement ASAP so a completion certificate is necessary for your records.
Apart from Launch Your Company with Confidence with Guy Kawasaki's Guide to Entrepreneurship and Seth Godin's Freelancer Course, additional courses for intending and current solopreneurs, entrepreneurs and freelancers I recommend include:
#Branding and #Marketing Courses on Udemy
#Freelancing Courses on Udemy
#Entrepreneurship and #Business Courses on Udemy
[Tweet ""Change is the end result of all true learning," Leo Buscaglia #learnanything"]
#Writing and #Self-Publishing Courses on Udemy
#Blogging Courses on Udemy
#Productivity Course on Udemy
[Tweet ""Learning is not attained by chance, it must be sought for with ardor and diligence," Abigail Adams. #challengeyourself"]
All the courses above have thousands of students enrolled with ratings of 4 stars and above out of 5 stars. I'm enrolled in some of them as well by the way (hey, I've said I'm a geek a few times :).
However, don't stop at the list above. As I've mentioned, there are thousands of course options and you can search for something else you're trying to learn if it's not on my list.
The best thing about all this is Udemy is having a flash sale until January 31! Every course on Udemy website will retail for $9.99 until January 31 including the courses I've recommended above, which usually cost over $100!
This is the lowest price Udemy has ever sold any of their courses and the best time to grab the courses while you can.
You can buy as many as you want and they will be on your dashboard forever. You can go back at any time to learn at your own pace. Below is a screenshot of my course dashboard: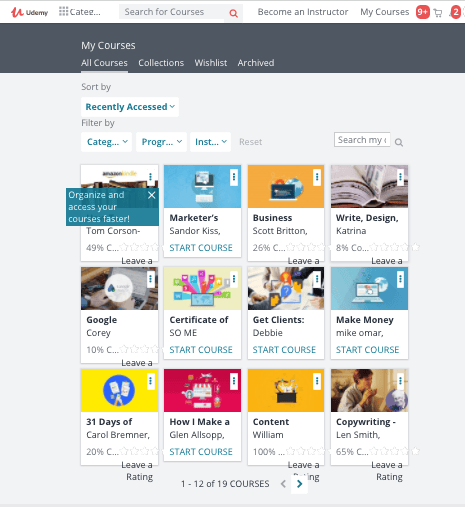 There's really no excuse for you not to pick up any of the courses if you're determined to learn something new this year.
Are you ready to challenge yourself outside your comfort zone? Find what you want to learn HERE. Flash sale ends January 31!
Happy learning!
#learnanything #challengeyourself
This post may contain affiliate links which means I will make a small commission if you purchase through those links. Read full disclosure HERE.