I've been self-employed for a little over a year and here are the top 5 lessons I've learned in that short time.
I launched my business in late 2014 although I took a few months off while I got things ready so technically, I went to work in early 2015.
I was excited for the new journey ahead of me and all the things I hoped to achieve as I followed my dreams.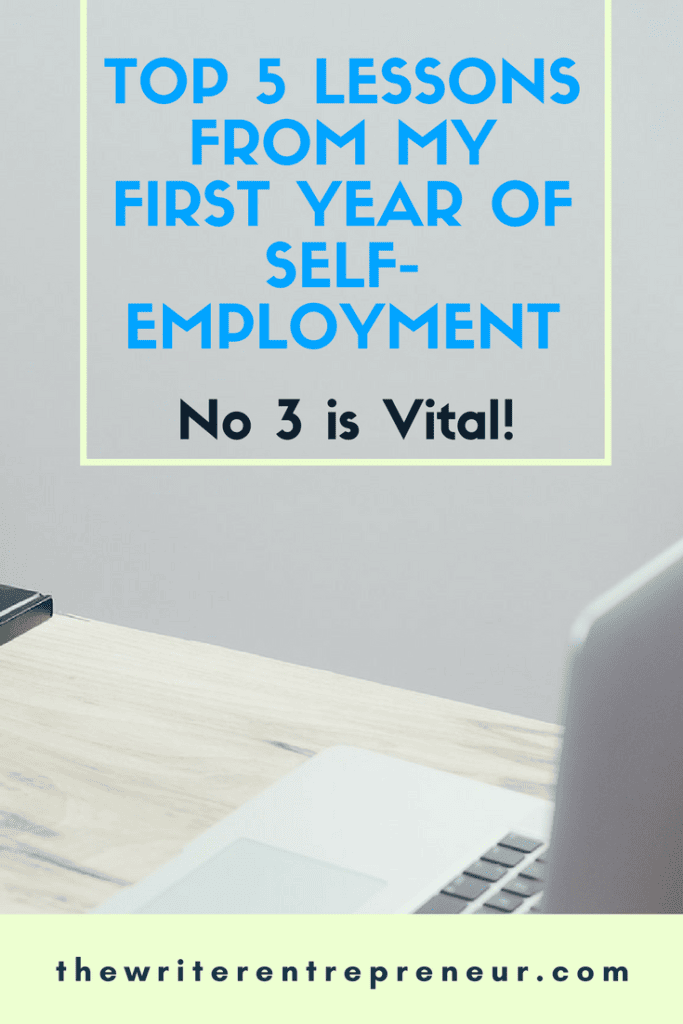 While the journey has been interesting, I managed to burn my fingers on the edge of my optimism a few times.
The journey continues as I launch into year 2, older, wiser and armed with the top 5 lessons I learned in 2015:-
Top 5 Lessons I Learned My First Year of Self-Employment
1. Don't Do Business with Friends
It's only natural that when you start a business, the first people you reach out to are your friends and family, which is fine.
However, going into business with friends is a bad idea – either taking business from them or giving them your business in some way.
What eventually always happens is you are expected to make compromises and concessions because you are "friends" and those compromises usually involve you not getting paid.
By all means, feel free to do your friends a cheap favor but remember you are a newly self-employed person with irregular income.
Perhaps doing favours isn't a good idea if you plan to remain in business.
2. Avoid Get Rich Quick Schemes
This one is a no-brainer but I was alarmed at the number of fraudsters I ran into on my networking forays.
They offered beautifully structured make money schemes that looked like they would work.
However, I just couldn't get with the idea of investing $20,000 into some random rice field somewhere that would turn into $50,000 within a few weeks.
It sounded pretty insane. I actually went out on a few dates with someone that tried to recruit me into a Ponzi scheme on the third date. Don't ask.
My point being when your bank account starts getting low and you start questioning what possessed you to start your own business, it's easy to fall into the trap of get-rich-quick schemes. Don't do it. You will regret it.
3. Beware the Client that Wants to be Your Friend
You should have great relationships with your clients. You should build and foster those relationships but they are business relationships.
Your client is not your friend. When a client starts leaning towards the BFF zone, you will start to see your fees recede.
Emotional manipulation will be engaged and you will find yourself doing more work and going the extra mile for less pay.
If you went into business for yourself to make friends, then you probably should have stayed in full-time employment where your secure pay can't be jeopardized.
4. Don't Turn into an Unpaid Consultant
I was burnt here real quick and this was the first lesson I learned in conjunction with not going into business with friends.
A friend needed some advice on a marketing project and wanted me to give her some ideas of what I could do for her.
I spoke to her at length and wrote out a comprehensive plan for her – at least 6 hours of my time. She subsequently took the plan and implemented it somewhere else with a few tweaks. Ouch!
Before you launch into an orator and start drawing up proposals, identify that there is an actual project with a budget in place and they are looking to hire someone.
Give general advice but do not broker your knowledge away for free. Remember you are self-employed and time is money!
5. Get at least 50% of Your Money Upfront
I lost a $1,000 my second month of operation because I launched a project without getting any money upfront and the client bailed on it.
I invested my own money under the impression that I could bill it in once the project was well underway. Ouch again.
As a self-employed person with a small business, you need cash flow.
You can't afford to have money owed to you all over the place while you continue to conduct business with your own funds. You'll end up broke.
In an ideal world, you should get 100% payment upfront but that rarely works.
Instead, always get at least 50% of your payment upfront or rather get enough of your payment upfront that if the rest isn't paid, you can live with it.
Yes, there are clients that won't pay the balance even after you've delivered excellent service.
Sure, you can go after them in court but remember you're a small business. Do you have liquidity and time for that mess?
Be sure to use an automated system like Freshbooks or Quickbooks to bill your clients and keep track of your business finances.
There were more lessons but none of them is quite as important when starting out as the 5 above.
I've let go of the clients that fall into 1 or more of the above and retained clients that are involved in their projects, appreciate my services, and are willing to pay for my time on time.
These are the reciprocal relationships I'm happy to maintain, grow and foster. Remember, good energy….
This post contains affiliate links. Full disclosure HERE.