If you're on the fence about going on an adventure to the Maldives, here are 5 reasons why the Maldives is so great.
I've been a bit blasé with blogging lately because I was on vacation for some time. I was also dealing with all the attention related to my racial profiling incident a few weeks ago.
While travelling is one of my passions, I didn't think I'd be able to make it anywhere this year.
My financial priorities have changed over the last few months but a deal came along and the wanderer in me couldn't resist it so to the Maldives I went.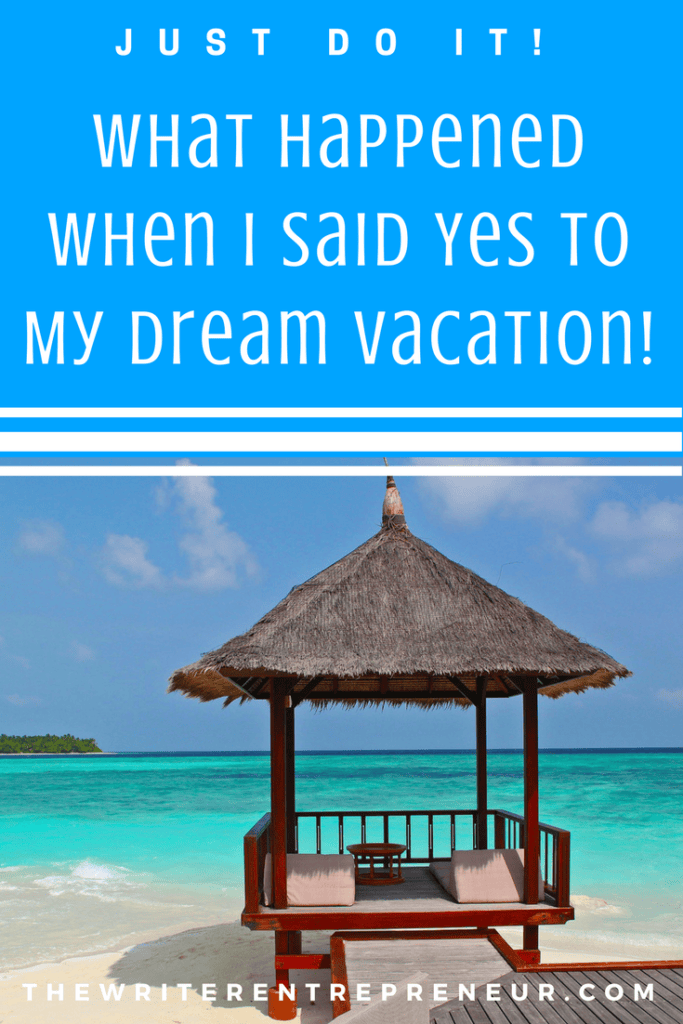 I normally don't discuss my vision board until the end of the year but there's something particular about going to the Maldives.
I have wanted to visit the Maldives for close to 6 years now but I always felt it'd be somehow better if I went with a romantic interest.
This is probably due to the way the islands are marketed. Subsequently, I waited for the person I was in a relationship with to get his act together so we could make the trip as a couple but that never happened.
Then I thought I'd wait till my next relationship but 2015 happened in my life and I remembered life is too short to be waiting around for anyone.
I decided to take the plunge with a friend who has since become my travel buddy.
[Tweet ""We travel, some of us forever, to seek other places, other lives, other souls." – Anais Nin."]
My Trip to the Maldives
We spent about a week in the Maldives. It was fabulous. It was expensive. It was worth it.
We stayed at an inn on Hulhumale, an island located on North Male Atoll. Then we traveled via yacht every day to a different resort for the day.
Among the resorts we visited were Bandos Island Resort and Chaaya Island Resort where I had the best and laziest naps of my life next to the calm waters.
I felt like I floated away from my body and just remained immersed above the waves while the breeze blew through and around me. It was surreal.
We also visited a local village where I discovered an artifact I'd bought at a resort for $28 the day before for $7. I was mad annoyed about that. Definitely, don't shop at the resorts.
I achieved a few firsts on the trip and I loved every moment of it.
Diving in the Maldives
I went diving for the first time in my life even though I can't swim, and I have a terrifying recurring nightmare of the world ending underneath the water.
It took a great deal of time for the lifeguard to convince me Jaws wasn't lurking below just waiting to eat me (slideshow below :).

Snorkeling in the Maldives
On day 4, I went snorkeling for the first time and was dumbfounded at the beauty and wonder of nature beneath the ocean.
Unfortunately, on the way back to the yacht, I succumbed to violent seasickness for the first time in my life.
It was very odd, unexpected, and can only be described as a feeling of wanting to cut open my stomach and extract my intestines just to feel better. Weird.
I remained bedridden for a few hours but felt a bit better by the time the yacht docked and I was able to feel solid ground beneath my feet again.
Enjoy some more of my pictures below. If you've always wanted to go to the Maldives, my advice is – just do it! You won't regret it.
[Tweet ""We travel not to escape life, but for life not to escape us." – Anonymous. #wanderlust"]
5 Reasons Why The Maldives is So Great
1. Underwater Wildlife
Underwater wildlife is incredibly beautiful. I don't think I can say enough good things about it. Colorful, bright, small, big.
The group you're with will take you to the parts where you can see the very best underwater wildlife. You can either go scuba diving or snorkeling.
2. Calm and Serene
The islands are calm and serene. I like peace and quiet so it was a perfect fit for me.
You can find one little corner and just be there all day enjoying the gentle breeze and waves while you eat, have a drink, or take a nap.
3. Historical Capital
Most people stay on the islands but my travel partner and I liked staying in Male and exploring different islands every day via day trips.
The island itself has some great historical sites such as the Grand Friday Mosque.
4. Local Villages
Beyond the exotic, activity-filled resorts, there are many local villages where you can experience the local culture and traditions, as well as partake in wallet-friendly, island-themed items like jewelry, scarves, etc.
5. Local Cuisine
The Maldives has plenty of fresh seafood – tuna and mackerel in addition to other delicious cuisines like breadfruit and coconut. I had an especially delicious curry dish in Male.
You can view my travel bucket list HERE. I try to get to at least one new country every year and two if my finances can manage it.
To learn more about the Maldives and visiting, check out Tourism Industry in the Maldives.
This post may contain affiliate links which means I will make a small commission if you purchase through those links. Read full disclosure HERE.