Buying and selling websites is similar to buying and selling domains while both mimic the art of buying and selling real estate.
This is the follow-up article to buying and selling domain names for a profit. 
What is Website Flipping?
Website flipping differs from domain flipping slightly. In the case of buying and selling websites, you purchase a premium domain name first.
Afterward, instead of selling it, you invest some time developing, growing, marketing, and monetizing the website before attempting to sell it for a profit.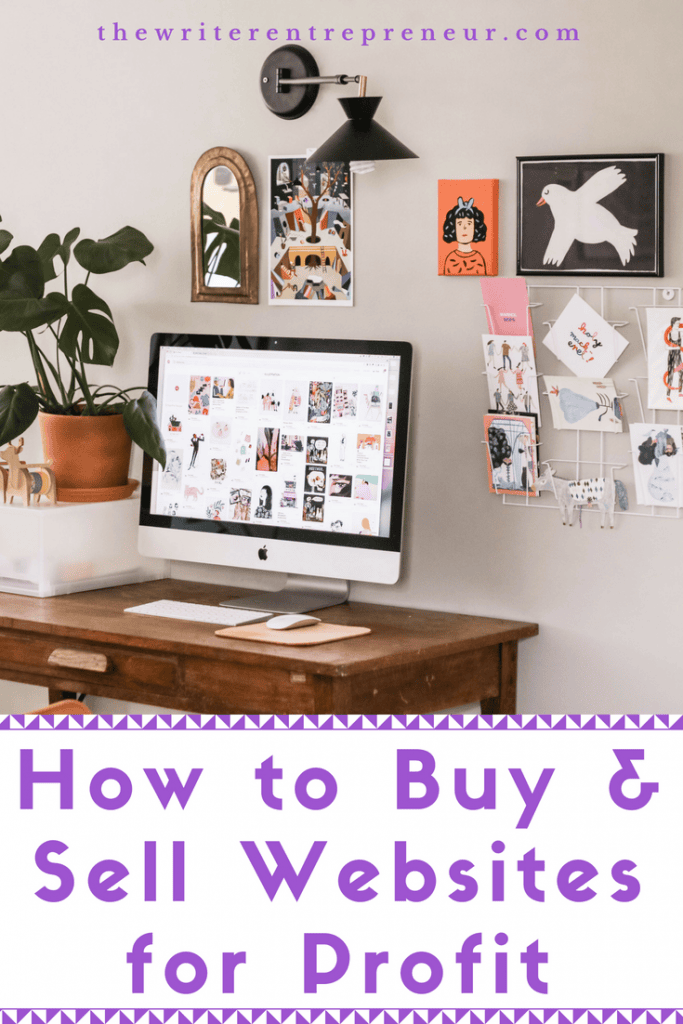 The potential profit margin is high because once the website has Google rankings, pages indexed by the search engines, backlinks, etc., a lot of the work has already been done.
There are two different strategies for developing and selling websites, which include:-
Buy an already developed website that isn't being managed very well but you see potential and think you can do something with it then flip it later on. The website might also have traffic targeted towards a product or service you already have.

Buy a domain name and hosting package then develop the website with the intention of selling it at a later date, usually within a year.
This article focuses on the latter strategy above. You need to get this right from the start so you can command a premium price when the time comes to sell your website.
How to Get Started With Buying and Selling Websites for Profit
1. Niche
Choose a niche that's popular and one you are passionate about. If you're not passionate about it, you will give up after a few months.
2. Choose the Right Domain Name
Buy a domain name that reflects the trends and what's popular. Make sure the domain name contains a highly searched key phrase.
For more on researching and choosing the right domain names read buying and selling domains for profit.
When you're ready, you can purchase your domain via Namecheap. Their domain names are the cheapest available.
3. Launch on a Self-Hosted Platform
Do not launch your website on Wix or some other free platform. Start with the self-hosted platform on wordpress.org.
You have access to every tool and it allows you to grow and monetize as you want.
WordPress is not that complicated to set up and I've put together a free step-by-step guide at How to Start Your Blog in 30 Minutes or Less for Beginners.
4. Connect to Google Analytics and Search Console
This is one of the first things you should do as soon as your new website is all set up. Connect your blog to Google Analytics and Google Search Console.
You need Google Analytics data to sell your website while the search console helps you see how your website interacts with search engines.
5. Mailing List
Start building a mailing list from day 1. A website with an attached mailing list commands more money.
Read 5 Top Tools for Small Business Email Marketing Management for my recommendations for email marketing service providers for small websites.
6. Start Creating Search Engine Optimized Content
Content is the backbone of your website. Aim to post at least 3 search engine optimized articles every week.
Search engine optimization is a whole other animal that is a never-ending learning process but Google provides the basics you need in this Search Engine Optimization Starter Guide.
7. Don't Forget Social Media
You also need a social media strategy for the most popular social media platforms – Facebook, Twitter, Pinterest, YouTube, and Instagram.
It will not be possible to focus on all of them at once so if you want to start with two, choose Facebook & Pinterest or Pinterest and YouTube but this may also depend on your niche.
To manage the time spent on these platforms, engage social media scheduling tools.
Read 4 Time Saving Social Media Scheduling Tools for Solopreneurs & Freelancers.
8. Monetization
A well-monetized blog that generates a solid income before it's listed for sale will also help increase the value of the website.
Have a combination of different kinds of monetization options such as display advertising, affiliate marketing, digital products, etc.
Related Content: Make Extra Money with Multiple Streams of Income
I started out with digital products on my website but affiliate marketing and display advertising is turning into my favorite monetization techniques.
Display advertising is either via Google Adsense, Medianet, Mediavine or Thrive.
I have Mediavine on my other websites because Mediavine pays much more than Adsense and the support is phenomenal.
Your website requires at least 25,000 sessions within 30 days to qualify for Mediavine. Make this your priority from day 1 through frequent content creation, social media marketing, and staying in touch with your mailing list.
9. Traffic
Traffic is one of the most important things required to sell your website.
Aim for organic traffic – traffic from search engines and social traffic – traffic from social media channels.
10. Keep Track of Income & Expenses
Before you can flip a website, you need to have detailed records on traffic stats, income proof, mailing list, and social media stats.
Of all these, the profit and loss records are the most important.
To save yourself a lot of headaches when the time comes to sell, keep track of all the income and expenses from day 1. You can do so via Excel or Numbers.
How Much Does it Cost to Build a Website?
This is relative especially factoring in the amount of time it will take you to grow the website to the level where you can sell it.
However, the basic costs that you definitely should not skimp on at the start include the following:-
Domain Name ($10)
Hosting Package ($83/year)
Premium Theme ($60)
Branding ($20)
Email Marketing ($10/month)
Social Media Marketing ($15/month)
Premium Images ($1/image)
All these figures are approximate and depend on your budget/what you're trying to achieve.
However, I've offered several options for each item so you can find something that fits your budget.
How Do You Sell a Website?
The time it takes to build your website from zero traffic to big enough to sell is up to how much time and dedication you put into it.
However, once you have all the factors in place then it's time to flip. You can sell your websites in three ways:-
1. Use a Broker
A Google search will uncover reputable site brokers such as FE International.
The advantage of a broker is they know what they're doing and can help you unload the website in record time but you will have to pay a commission.
2. List For Sales Yourself
You can list your website for auction on sites like Flippa and Empire Flippers.
They also charge a commission but they will be the bridge between you and potential buyers.
3. DIY
You can contact people and companies directly to offer the site for sale if you think it will be of interest to them.
If you do it on your own, be very wary of potential scammers and consider using an escrow service.
You will be asked a ton of questions before you can sell.
Be honest and open to any requests from potential buyers and don't try to get greedy by setting astronomical prices.
Useful Resource – Website Flipping for Cash
How Much Can You Sell Your Website For?
You can sell sites for as little as $1,000 to as high as $100,000 and possibly higher.
The price depends on the earning potential of the site, current subscribers, page ranking, broker skills, etc.
A rough guide is 12 – 20 x monthly income generated from the website.
For instance, if the website makes $1,000/month, you can expect to sell it for around $12,000 — $20,000.
Below are some examples of how much websites were bought from across a range of niches:-
Don't let the investment to start a website scare you. The rewards short-term and long-term are worth it.
In the short term, you will make the money you spent on the domain name, hosting, theme, branding, etc back quickly.
In the long term, you can make a significant amount of money if you decide to unload the website eventually.
You might even end up loving the website so much and decide you don't want to sell it anymore.
Anna gave up her 9 – 5 to implement her life plan after paying off over $40,000 in debt. She started The Writer Entrepreneur to share her journey and encourage other people to pay off debt and pursue their life plans. She has been featured on HuffPost, YouQueen & Fitnancials among others. Learn more about Anna HERE.
This post may contain affiliate links which means I will make a small commission if you purchase through those links. Read full disclosure HERE.