When you start a small business, one of the important things to put in place ASAP is email marketing management so you can stay in touch with the people that want to hear from you.
To do this effectively without wasting your time, you need a budget-friendly email marketing management tool that has powerful and optimal solutions, which will help you build your customer contact list.
What is Email Marketing?
Email marketing is one of the ways to stay in touch and build relationships with your customer base.
You can use email marketing to promote your products and services, provide value to your customers and develop relationships with potential customers.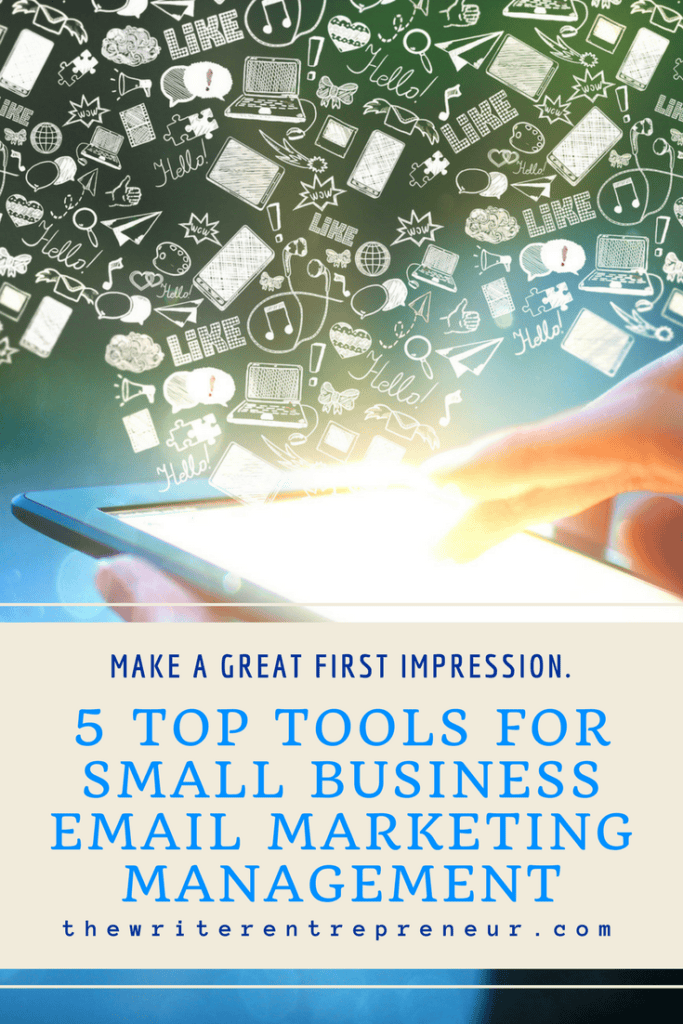 Email marketing is just one part of the equation required to stay in touch with customers but it's a vital part of it.
Email marketing is a budget-friendly way to get in touch with current and potential customers. It's also easier to manage and track than traditional direct marketing via post for instance.
With email marketing, you're connecting with the people that want to hear from you because they provided their email addresses when they visited your website or through your social media channels.
Related Content: 4 Time-Saving Social Media Scheduling Tools for Solopreneurs and Freelancers
With email marketing being 40 times more effective than social media marketing, there's no question about utilizing email marketing in your home business.
The only question that remains is which email marketing platform is best for a small business.
As a small business, you want to sign up with an email marketing management company that's effective and easy to use as well as wallet-friendly.
In this article, I've broken down the top 5 email marketing management tools from experience. I've used them all at one point or the other for my business as well as for client projects.
5 Best Email Marketing Tools for Small Businesses, Solopreneurs, and Freelancers

ConverKit is an email marketing service I use for my client projects. It's a platform that targets professional bloggers, authors, and other creatives.
ConvertKit offers landing pages, email automation, easy subscription management, responsive customer support, and an easy-to-use interface.
Customizations of forms are a bit tricky and more suited to someone who has a basic knowledge of HTML code, which can be a bit challenging for a beginner.
ConvertKit offers more integrations than Mailerlite but manual activities are required for some of the integrations.
ConvertKit offers a 14-day free trial. Pricing starts at $29/month with a 30-day refund policy.
Explore a free ConvertKit webinar HERE. I rate ConvertKit 5/5 overall. For a comparison of MailerLite vs ConvertKit, visit this page HERE.

GetResponse is another email marketing service I use for client projects especially the larger projects. I'm also looking at using it for one of my bigger websites because of its great features.
GetResponse sign-up forms can always be seen by visitors so they don't forget to sign up before leaving your website.
The offering is evolving into an all-in-one marketing solution that provides webinar hosting, landing pages, and basic CRM (customer relationship management) options.
Additionally, GetResponse has a wide variety of templates, autoresponder options, split testing, in-depth reports, and segmentation options.
Their feature availability is split into 3 levels – email, pro, and max. Whichever options you have available to you is dependent on your level. The email plan is fine for beginner bloggers.
You can try GetResponse for free for 30 days. GetResponse pricing plan starts from $15/month for 1,000 subscribers. Explore the free trial here. I rate GetResponse 4.5/5.

Mailerlite is a newbie to email marketing. This is my current email marketing service and I'm very happy with them.
All their tools are included from the beginning and there's no need to upgrade to access these tools even if you have a free plan.
The first 1,000 email addresses are free and then it's $10/month but it's worth every penny. Why?
Simplicity. I don't have infinite hours to figure out how to muck about with interfaces. Mailerlite templates are gorgeous and easily customizable even for a complete novice.
Their customer service is easy to contact and they respond within 24 hours or less, the tracking system is impressive and the marketing automation is top-notch.
Mailerlite also has options to create landing pages that convert. With their landing pages, my websites receive an average of 10 signups daily.
Additionally, Mailerlite customer service is available in 10 languages.
The only thing I wish they have is a way to check links before scheduling emails, which is an option MailChimp provides but this is a minor inconvenience.
I wrote about Mailerlite in greater detail at How Do I Use Mailerlite?
Their sign-up process is simple and doesn't require a credit card to set up your account. Explore their freemium plan here. I rate Mailerlite 4.5/5 overall.
ActiveCampaign user interface is simple and friendly. They offer automation, integrations and provide helpful pointers when you have overlooked something important.
A point to note is their integrations are not native and require additional apps and extensions from their marketplace, which comes at an additional cost so this can drive pricing up.
ActiveCampaign is suitable for small businesses and you can sign up without a credit card. Pricing starts at $9/month (annual plan) for 500 emails.
If you have a bigger email list, it might be too pricey for you. Check the other options below. Explore your 14-day free trial here. I rate Active Campaign 4/5.
MailChimp was one of the first email marketing services I signed up with many moons ago. They offer a free plan for up to 2,000 email addresses.
Additionally, they have free templates, integrations, metrics and welcome emails but to do more like autoresponders, you will need to upgrade your plan which starts at $10.
My main issue with MailChimp was the user interface for setting up autoresponders. It was clunky and took too much time to set up.
I still stuck with them however but when the price for my mailing list started getting a bit too much for my budget, I moved to another service, which proved to be more up my alley.
If you're just starting with a new blog, MailChimp provides most of the required features for free. I rate MailChimp 3.5/5 overall.

There are several others apart from the above like Drip, Mad Mimi, Constant Contact, and Vertical Response.
However, I have no experience with these email service providers so I cannot recommend them but I have read good things about each one.
Whichever email marketing management service you decide to sign up with depends on your list size, your budget, your goals for your list, user-friendliness, templates, and integration options.
Related Content
This post may contain affiliate links which means I will make a small commission if you purchase through those links. Read full disclosure HERE.