Choosing the right WordPress theme for your website from the beginning is one of the most important decisions you'll ever make.
The right website serves many purposes with the most important being an optimal experience for your visitors.
With hundreds of thousands of themes out there, choosing the right one can be a challenge.
In this article, I will narrow down the best WordPress themes for beginners based on my experience.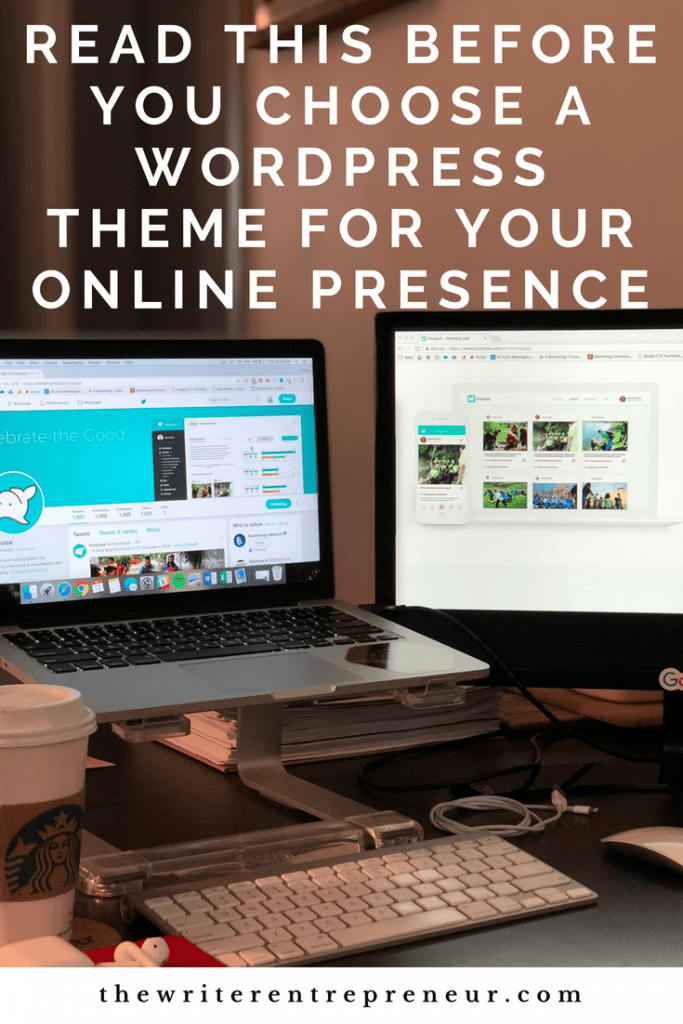 I've changed this website's theme several times and none of them made me happy because the experience on mobile was annoying to me.
The current one is the only one that ticked off all the boxes when it came to the mobile experience. I've used the theme on several other websites as a result.
How to Choose a WordPress Theme
Before you jump into choosing a WordPress theme, there are several things you want to tick off your list:-
1. What Kind of Options Do you Want?
What kind of options and features do you want? How versatile do you want your theme to be?
Do you want to do a little coding or you want a hands-off experience without having to see any weird numbers and symbols?
How many columns do you want your theme to have? You should choose a theme that allows flexibility? Also, take your industry into consideration.
For instance, the kind of theme you would use for a DIY and crafts website would be different from the kind of theme for a food or e-commerce website.
I will write a more comprehensive post about the best themes for individual industries later on. Sign up for notification once this is up.
2. Is Support Readily Available?
I've purchased themes before where the theme developer disappeared or didn't respond to any emails.
Eventually, I had to replace the theme. Complete waste of money.
Be sure to choose a theme that provides adequate support after purchasing, and will help with any installation questions.
3. Choose a Responsive Theme
A responsive theme is a theme that resizes for all devices – mobile, desktop, laptop, etc. This is imperative for user experience as well as Google rankings.
If your website isn't responsive, Google won't reward it. Most themes nowadays are responsive but you should always check this before you purchase.
4. Avoid Theme Too Much
These are themes that have so many features, they give you a headache. Purchased one of those before too.
There are too many things going on with the theme, which might look nice on the demo page.
In practice, they slow down your website and impact your website's performance.
5. Invest in the Right Theme
When you start out, funds are limited and there's only so much you can pay for but if there's one thing you want to invest in, it's definitely a premium theme.
There are thousands of free themes in the WordPress directory.
However, they have limited customization options and there's always one thing or the other you're unable to achieve with free themes. Free themes also lack support.
The right premium theme is a one-time investment so don't be hesitant about making this investment in your small business.
6. Get a Theme with a Child Theme
A child theme allows you to mess about with whatever functions you like without issues when there are updates.
If you do this with the main theme, you risk losing all customizations when the theme is updated. You won't have this challenge with a child theme.
7. Check Ratings & Reviews
Check the reviews for your prospective theme on the themes page as well as individual websites before you purchase.
Read the positive and negative reviews so you can make an informed decision before purchasing the theme.
These are the main points I would recommend keeping in mind when it comes to choosing a premium theme for your new website.
So which WordPress themes fit this category?

What is the Genesis Framework?
The Genesis Framework was created by Studio Press and is a platform that allows you to create gorgeous websites without too much fuss.
Genesis Framework is one of my favorite theme platforms because it was created specifically with SEO in mind.
The Genesis Framework is well built, well coded, and is updated regularly. It's also budget-friendly and secure.
The Genesis Framework utilizes hundreds of child themes, which work well alongside the framework.
There is also a lot of support so you can be sure all your questions will be answered prior to and after purchase.
LEARN MORE ABOUT GENESIS FRAMEWORK
Yes, the Genesis Framework is worth it. I use it on two of my websites.
If you want a quality WordPress theme that goes the distance, then Genesis Framework is one of the best.
The great thing about the Genesis Framework is once you purchase it, you can use it on any website you want.
You can use it on as many websites as you like without having to buy the framework every time. That alone makes it worth the money.
Genesis Framework also has its own plugins, which you can use to achieve a wide variety of customizations on your website without any issues.
How Do I Install the Genesis Framework?
You install Genesis Framework the same way you install other WordPress sites.
Before you install, you need to purchase the Framework and preferable child theme HERE.
Below are my top 5 recommendations for child themes on the Genesis Framework:-
You can also check out Restored 316 Designs (Feminine Website Themes), which are perfect for health, beauty, and lifestyle blogging.
There are two steps to install the Genesis Framework and child theme. They are simple but incorrect installation can make your website go crazy:-
After purchase, navigate to WordPress dashboard -> appearance -> themes

Click on the add new theme button and upload the zip file with the Genesis Framework from your computer

Once uploaded, click the install now button and activate it.

After activation, repeat the process but this time upload the zip file with your Genesis child theme.

While installing, you will notice a message about looking for the parent theme during installation.

Activate the child theme post-installation and you're good to go.
You must install the Genesis Framework before you install the child theme otherwise your website will go crazy.
In case, you do install the child theme first by mistake, go to appearance -> themes and delete both of them then start again.
After installation, start playing around with your theme. Theme developers provide detailed step-by-step instructions for making the theme look exactly like the demo so don't stress out about anything.
Whichever child theme you choose depends on your industry. You can find hundreds of Genesis Framework child themes for every industry HERE.
GeneratePress Themes for Your Website
GeneratePress is my second favorite theme website. It contains over 30 pre-built websites that you can adopt for your purposes/
The Writer Entrepreneur and several of my other websites are built on GeneratePress.
The theme options panel and elements allow me to do anything with my websites without having to do any coding.
I wrote a detailed review of my experience with GeneratePress, pros and cons, GeneratePress coupon codes, and more HERE.
With over 1,000 5 star reviews on their website, GeneratePress continues to grow as one of the most loved WordPress themes online right now.
If you have any questions about choosing the best WordPress theme for your website, do ask in the comments section.
This post may contain affiliate links which means I will make a small commission if you purchase through those links. Read full disclosure HERE.