These top 12 tips for making the most of work from home days will make your life much easier and make the experience more enjoyable.
Setting up a home office can be a lot of fun and feel very empowering. However, working from your home office is an entirely different thing.
You may soon discover there are 101 distractions waiting to hinder your productivity and prevent you from getting anything done.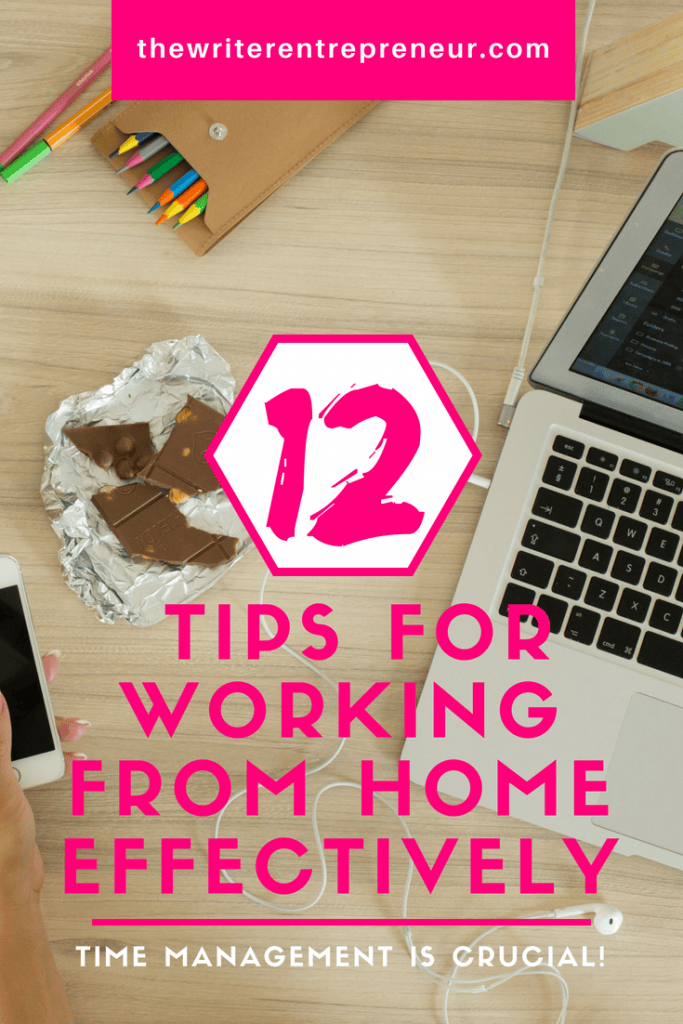 The point of working from home is so you can achieve more, focus better, and save money on commutes.
Even one of the world's richest men, Richard Branson, works from home half of the year. However, you need to make it worth your while and investment.
I've been working from home since 2015 and there was a lot of fine-tuning in the beginning.
Below are my top 12 tips for working from home effectively and increase productivity:-
Related Content
Top Tips for Work From Home
1. Start the Day with a Schedule
Start the day with a schedule of things that need to get done. You can use a random sheet of paper for this or a planner like this one.
At the start of the day, I go through my planner, list tasks I need to achieve by the end of the day, get all fired up then jump headlong into it.
2. Set Official Working Hours
Don't just work at random hours. Set actual working hours for yourself. For instance, my official working hours are 1 pm – 7 pm with 15-minute breaks every few hours or so.
However, I work outside those hours if I want to but I stick to those hours so a routine is formed.
3. Have Your Home Office in a Separate Area
Depending on where you live, you may be able to have a room for your home office.
I live in an open plan area so my home office is in one section of my apartment but the entire section is very much like an office complete with a shelf and cabinet.
If you don't have the luxury of space, you can use a privacy screen like the one below to cordon off your work area so it's separate from the rest of the house/apartment.

4. Create Processes and Procedures for Working from Home
There's no need to be too formal with this but it helps to have a few processes and procedures in place.
At the end of the day, no matter what you're doing, you're still running a small business and need to file things, pay bills, keep records, and other ad hoc administrative tasks.
5. Work Away from Your Home Office Once in a While
As versatile as my home office is, I make a point to get away from it at least twice a week. On those days, I work out of nearby coffee shops.
Changing your work environment a few times a month can help you optimize productivity and eliminate monotony.
6. Invest in a Good Chair for Working from Home
This sounds odd but you'll be surprised how desperate a bad chair can make you in addition to giving you neck and back problems.
A bad chair can make you not want to work at all. Invest in a comfortable and ergonomically sound chair. This is one line item you don't want to scrimp on.
Bulk Office Supply has a wide range of comfortable chairs for a home office with free shipping for orders over $45. Some good chairs for your home office include:-


6. Don't Invite Your Friends Over
I can't tell you how many times a friend has called me while I'm working, discovered I'm at home or in a coffee shop, and then suggested coming over to hang.
I have to explain every time that just because I'm at home or sitting in a cafe doesn't mean I'm not doing anything. I'm self-employed so I'm working.
In some cases, if someone doesn't let me know before coming over, I don't even answer the door. It's important to set boundaries when it comes to your working hours.
7. Schedule Errands Like You're in a Full-Time Job
If you're in a full-time job, you wouldn't go grocery shopping or visit a doctor during office hours, would you? The same thing applies to a home office. Schedule all your errands during your free time.
I try to schedule my errands for the weekend or before my work hours start at 1 pm. If you keep running errands during your work hours, you'll discover you don't achieve much at all.
8. Play Music When Working from Home
Playing music while working from home can provide a huge productivity and mood boost.
Depending on the music, it can elevate your motivation levels. I love listening to classical music when I'm working.
9. Put Your Phone (s) on Silent
Put your phone (s) on silent. The phone can be a huge distraction during work hours.
I usually leave my phone in the bedroom and check on it every few hours. Sometimes, I check it only at the end of the day.
10. Stay Off Social Media When Working from Home
Social media is a huge time suck. If you find yourself unable to stay away from them while working, you can utilize apps that will block access to social media during your office hours.
Apps that block social media and other online distractions like this include AntiSocial, Freedom, StayFocused, and Cold Turkey.
11. Don't Check Email
Have a specific hour for checking your email then close the window and resolve not to check it again until the end of the day.
Leaving the window open and constantly checking emails is another way to greatly reduce your productivity.
12. Go on a Staycation Occasionally
I don't mean go all out splurging but just a short weekend getaway. Every few months or after a major project ends, I book a weekend getaway.
Nothing too fancy as long as the place is clean. It never costs me more than $250 for the entire weekend.
I usually come away from these weekends extra rejuvenated and ready to jump into another challenge.
If you apply these tips, you will discover your productivity is greatly improved and you get more done at the end of the day.
If you want to run a small business from a home office, it's imperative you optimize working from home in order to get the best ROI.
Work from Home Tips & Ideas Video

Image 1 Credit | Image 2 Credit
This post may contain affiliate links which means I will make a small commission if you purchase through those links. Read full disclosure HERE.