Discover the various ways to save money and time with the Instant Pot plus 17 budget-friendly recipes for your Instant Pot.
The Instant Pot has been around for some time and was a craze when it was first launched.
Things have calmed down now but it still remains a very popular cooking appliance because it does save on time and money.

What is an Instant Pot?
In case you've somehow missed the trend, an Instant Pot is a multi-purpose cooker that can carry out a wide variety of cooking.
Some of the awesome things it can do include pressure cooking, slow cooking, rice cooking, steaming, sautéing and so much more.
As someone who doesn't particularly like cooking and looks for as many ways as possible to spend as little time as possible in the kitchen, the Instant Pot is perfect.
What's more, the brand also manufactures a cute little Instant Pot, which is perfect for the solo cook or someone who doesn't want to cook a lot at a time.
If you have a big family, then the bigger models such as the Instant Pot Ultra 6 Qt 10-in-1 would be better suited for you.
Now how does the Instant Pot save money and time? I spend about $300 per month on groceries including household essentials.
Some would say that's quite low. Nevertheless, I'm always looking for ways to cut down on that without compromising on health and quality. The Instant Pot is one of those ways.
If you're unsure what to cook with an Instant Pot, you can always engage resources to create a customized meal plan for you based on your preferences.
Some of those resources include JetFuel Meals.
Related Content – How to Save Money, Eat Rool Food & Look Better with Meal Planning
Do Instant Pots Save Money and Time?
Absolutely. I've put together a compilation below including a round-up of healthy, fast, and budget-friendly Instant Pot recipes.
1. One Pot to Rule Them All
I have a friend that buys a gadget as soon as it comes on the market. As a result, her entire kitchen is very cluttered up.
She has loads of small to huge gadgets she barely uses. The cost of these gadgets came to thousands of dollars the day we took stock together.
Included in her stash were a rice cooker, a steam basket, and an ice cream maker among other things.
Owning an Instant Pot eliminates the need to buy all these individual cooking gadgets.
The Instant Pot is less than $200 depending on the size you buy. Compared to the cost of so many individual gadgets, the Instant Pot wins hands down. Additionally, it saves on kitchen space and clutter.
2. Instant Pot Saves on Eating Out
One of the main reasons I reach out for a take-out menu at the end of the day is because I'm dead tired and the thought of going into a kitchen makes me a tad suicidal.
A few times a month is ok but more than that plus delivery costs plus tip and you're binning the budget for the month.
Bad for your waistline and your savings bottom line. An Instant Pot eliminates the temptation to order out.
It's fast and you can throw everything into the pot at once (depending on what you're cooking), switch it on, and wait for it to do its thing.
If there's a take-out dish you can't live without, I guarantee a quick search on Google with the word Instant Pot will turn up hundreds of recipes.
3. Saves on Washing Up
Have you ever tried to cook a complicated meal with 400 different pots and pans to clean up afterward when you're bone-tired from all the cooking and eating? Even loading up a dishwasher can be quite a task.
With an Instant Pot, you cut down significantly on the number of extra utensils you need to make your dish happen.
Depending on the dish, you can throw all the ingredients into the Instant Pot at once or one at a time without needing extra pots and pans to make something else.
Less washing up after dinner means more time for you to spend on other things like family, reading, watching TV, being a bum, and/or whatnot.
4. Lower Utility Bills
The Instant Pot is energy efficient. It saves as much as 70% of the energy cooking the same thing with regular appliances would use.
You also use less water when cooking with the Instant Pot. Cooking one or two meals might not sound like a lot of savings but over a few months to a year, this could lead to a real drop in your utility bills.
You can put those savings towards paying down debt, bolstering your emergency fund or something else equally important.
These are the major ways the Instant Pot helps save money and much more importantly, time.
Additionally, the instant pot also encourages you to cook healthy meals and helps eliminate any harmful micro-organisms in food.
Is An Instant Pot Worth the Price?
Oh yes! Multifunctional, time-saving, and money-saving. What's not to love about it? For the busy parent, the busy professional, or the lazy bum, an Instant Pot can turn out to be a lifesaver.
It will eventually pay for itself within a few uses yet last for a pretty long time with proper care and maintenance.
Get your own Instant Pot HERE. The Instant Pot is available in different sizes and specs. Some of the more popular ones include:-
Instant Pot DUO60 6 Qt 7-in-1 Multi-Use Programmable Pressure Cooker, Slow Cooker, Rice Cooker, Steamer, Sauté, Yogurt Maker, and Warmer

Instant Pot Ultra 6 Qt 10-in-1 Multi-Use Programmable Pressure Cooker, Slow Cooker, Rice Cooker, Yogurt Maker, Cake Maker, Egg Cooker, Sauté, Steamer, Warmer, and Sterilizer
You can see the entire range of Instant Pot Options HERE.
Best Healthy Instant Pot Cookbooks
You can view even more Instant Pot cookbooks HERE. Vegan, keto, paleo, whole 30, etc cookbook options available as well.
Are you ready to try the Instant Pot yet? Below are 17 fast and budget-friendly Instant Pot recipes anybody can put together.
Final Word on the Instant Pot
The last word on the Instant Pot; don't buy a kitchen gadget because it's the latest craze and everybody else is buying it.
Buy it because you've crunched the numbers, the meal plans, and your available time for cooking and you've decided it makes sense for you to invest in it.
Happy cooking and savings! 🙂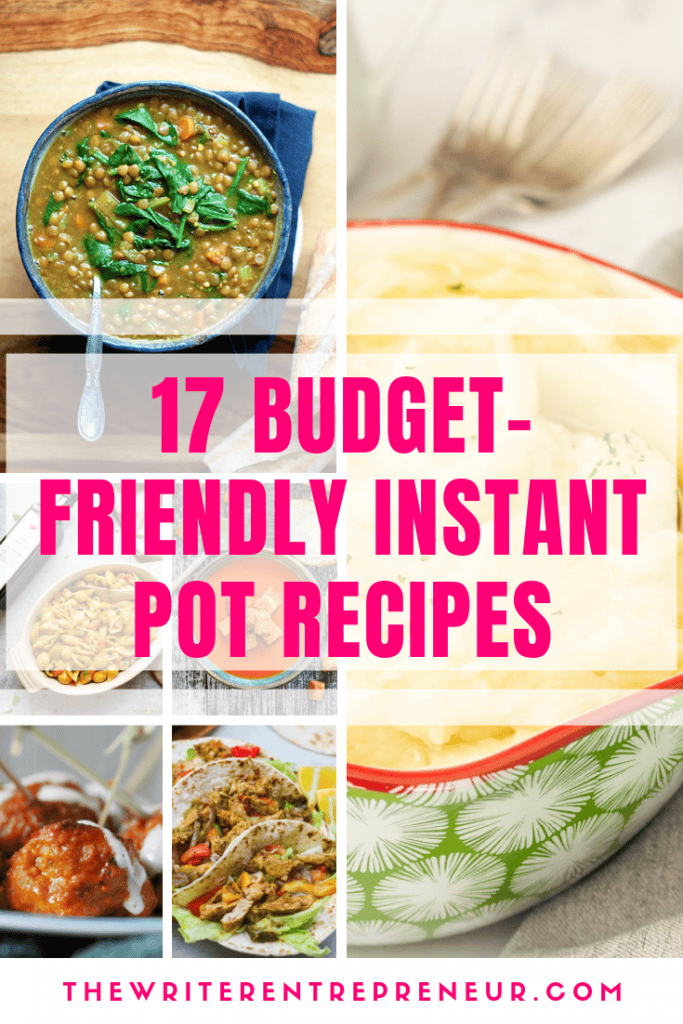 This post may contain affiliate links which means I will make a small commission if you purchase through those links. Read full disclosure HERE.