I started creating vision boards in 2011 and I've used them to manifest so many things in my life. They're a powerful way to stay focused and on track with your goals every year.
You can create a vision board for as many goals as you want. It all depends on you. You may be thinking, "Uhn, it's almost mid-year. Aren't you a tad late with this?"
Yes, I am but I've been super busy since the beginning of the year and also stalled on how I wanted to proceed with 2017's vision board.
I didn't want to just rehash the things from last year's vision board. A few weeks ago, I went on a much deserved holiday to Seychelles.
As I stepped out of the plane upon my return, I experienced extreme clarity and knew exactly what was next. It's incredible what a few days off can do for you.
Subsequently, my 2017 vision board outline was ready within 48 hours but it took me a little bit longer to actually put it together on the board, and here it is.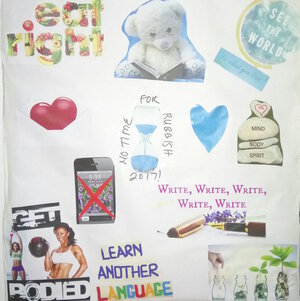 My word of the year is "No time for rubbish." Life is short and I will not be spending even one second of what's left on any nonsense.
Live Your Imagination with a Vision Board
1. Fitness
I'm always about my fitness and have been since I was old enough to run. I deeply believe if you take care of your body, your body will take care of you for a very long time.
This year, I'm doing short interval videos and started with Jillian Michaels 30 day shred. I will also be looking into HIIT (High-intensity interval training) workouts.
2. Diversify Income
One of the biggest lessons the recession taught me is to never ever rely on one source of income.
One of my challenges this year will be building my online and writing income to be on the same level as income from my consulting business. I'm getting there but it's a lot of work.
3. Grow My Money
Last year, I found out something very serious about my retirement planning and had to pull out my money before I lost it all.
The money has been in bonds ever since but not really doing much, which is a bad idea. I've been looking into ways to grow my money this year and invest my funds without the middleman.
I'm currently reading The Global Expatriate's Guide to Investing and The Bogleheads Guide to Investing. I've also been looking into peer to peer investing.
4. Eat Right
As I grow older, I'm working harder on eliminating the bad things in my diet but making sure I replace it with a healthier option. As a super picky eater, this is a big challenge for me.
5. Do What You Love
I love reading and writing but what I love most is exploring the world and discovering new places and I'm trying to do more of that this year.
I hope to visit more than 1 country like I usually do. Subject to my finances but that's why I'm working so hard when I'd rather be sleeping.
6. Meditation
I want to focus on internal healing in 2017. There are a few past hurts that I feel I'm still holding on to and I need to work my way through them and get that bad energy out of my life.

7. Read More
I have a humongous library that I've been neglecting for the last few years. I've decided to read every last pending book this year before buying another book.
8. Tone Down on Technology
I've always been pretty good with tuning out technology but in the last few months or so, I've picked up a terrible habit of going through my phone first thing in the morning.
This can easily go on for an hour – that's a minimum of 7 hours a week looking at the dang phone. What a waste of time!
I recently came across this article on Arianna Huffington's Thrive website and it was a wake-up call.
I plan to take more breaks from the phone and laptop and I've already stopped checking the phone in the morning.
9. Love Letters to Myself
That's right. I will be writing love letters to myself this year. I know. "Could you BE any more in love with yourself?"
If you can figure out whose voice I said that in, you and I need to become BFFs soon!
As a matter of fact, I can be more in love with myself hence my love letters to myself. It's just little notes that I will be leaving all over to myself.
I already do a good job of telling myself how incredible I am. This year, I wanna do that even better. Frankly, I think everyone should write love letters to themselves!

10. Learn Another Language
I've been trying to do this for years but I finally got going on it with an app earlier this year and I'm trying to learn Arabic.
I've been using vision boards to live my best life since 2011 and they have immensely helped me keep track of where I came from, where I'm going and what I need to do better.
Interesting in the process of creating your own vision board, check out Create an Actionable Vision Board Kit, which includes everything you need to create and stay on track with a vision board.
My experience from 2011 with vision boards inspired me greatly while putting this together. Check it out HERE. Use code vision20 for 20% off!
This post may contain affiliate links which means I will make a small commission if you purchase through those links. Read full disclosure HERE.