Get the best tips and tricks for how to increase your blog income with the Google Adsense program and maximize your income through display advertising.
This is a continuation of Make Extra Money with Multiple Streams of Income series.
You can view the full series at Earn Extra Income; a comprehensive guide with actionable resources to start earning more money online and offline.
In this article, I'll be covering:-
How to make extra money through the Google Adsense program
Advantages of joining Google Adsense program
How to get started with setting up Google Ads
What is Google AdSense?
Google AdSense is the advertising program for Google. The platform allows you to place relevant ads on your website and YouTube videos.
When visitors click on the links, you receive a certain percentage of the income. You also receive money when the ads are displayed on your page.
Businesses place the ads directly with Google through their AdWords program. You can identify these ads by the little icon in the top right corner, which says "Ads by Google."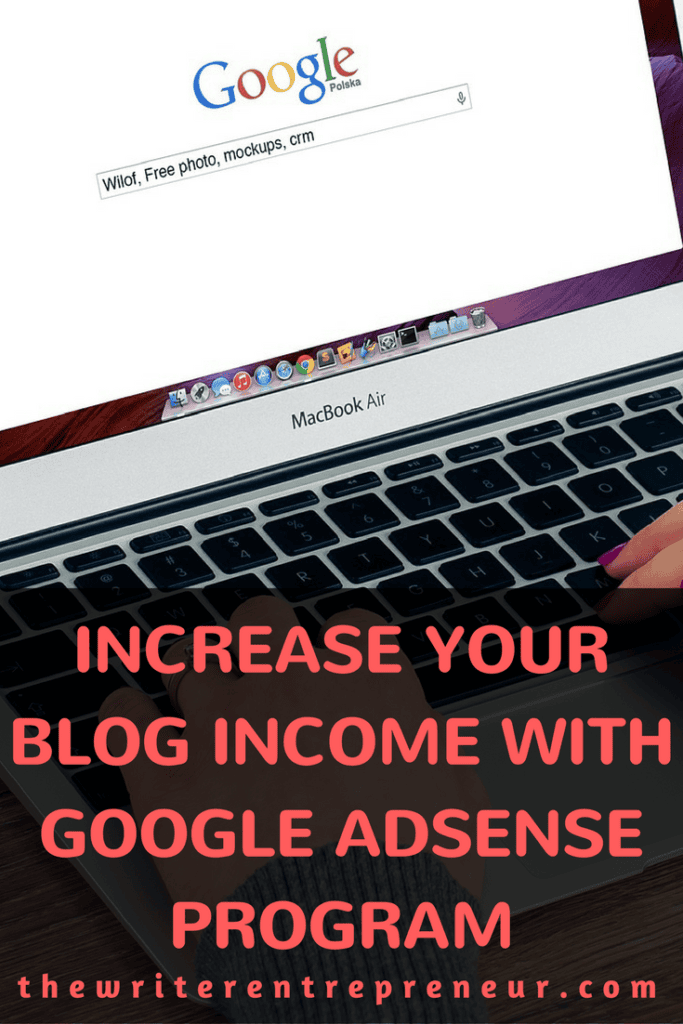 11 Advantages of the Google Adsense Program
1. Free to Join
The program is easy and free to join and doesn't make you jump through hoops to get in.
If you already have a Gmail account, you can use the same ID or create another account for your website specifically.
2. New Websites Can Join
You can join even if your website is new although the domain should have existed for a few months and should have at least 5 articles uploaded.
3. Customizable Ads
You can customize the ads to fit different areas of your website. Google will also make some recommendations on the best ads to place on your website.
4. Monthly Payments
You're paid every month. However, there's a minimum amount to get paid.
You can go with the system default which is $100 or you can set your own higher limit for when to get paid.
5. Different Payment Channels
You can get paid through various means – Western Union, bank transfer, and cheques.
6. Monetize Multiple Websites
You can add multiple websites to your AdSense account giving you the opportunity to make money across different avenues.
7. No Coding Knowledge Required
You don't need to be an IT genius to figure out how to generate and place the ads on your website.
Google also has a back-end where you can analyze what's working and traffic sources, which helps you tweak what you're already doing.
8. Gives Your Website Authority
It is one of the most popular and highly rated ad programs online, giving your website a certain level of authority as they don't approve just any site.
9. Helpful Forum
They have a huge forum where you can learn so much about placing ads, how to increase your revenue, and much more.
10. Can Be Used With Other Ad Codes
Sometimes, there are no ads to display so Google gives you an option to place codes for another ad when that occurs instead of a blank space appearing on your website.
11. Responsive Ads
There are options for responsive ads that adjust to the size of whatever screen your website is viewed from.
What Are the Different Types of Google Ads?
Google provides a wide range of ad types such as text ads, image ads, flash ads, video ads, audio ads, and search boxes embedded directly on your website.
You can customize the text ads and search box to match the look and feel of your website so the user experience isn't disturbed.
How to Create Google Ads on Your Website
Once your website is approved for the program, log into your account and go to the side panel on the left side of the screen. Click my ads, then ad units.
Choose the type of ad you would like to create. If your website is new, you will likely only be able to place text and display ads only. Matched content ads require a certain amount of traffic.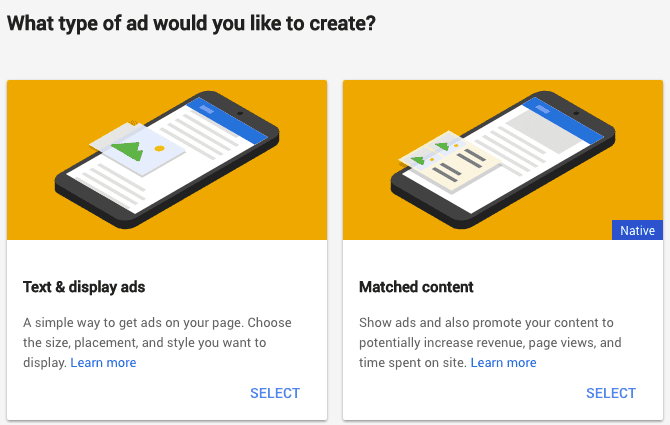 Give your ad unit any name you like. I use names correlating to the relevant website I'm going to place the ad on.
Choose the type of ad you want to create with a focus on recommendations from Google.
You have options to customize text color and font type, include an alternative URL when there are no ads to display, etc.
Once you're happy with the preview, save and get the code. Copy the HTML code and place it on your website.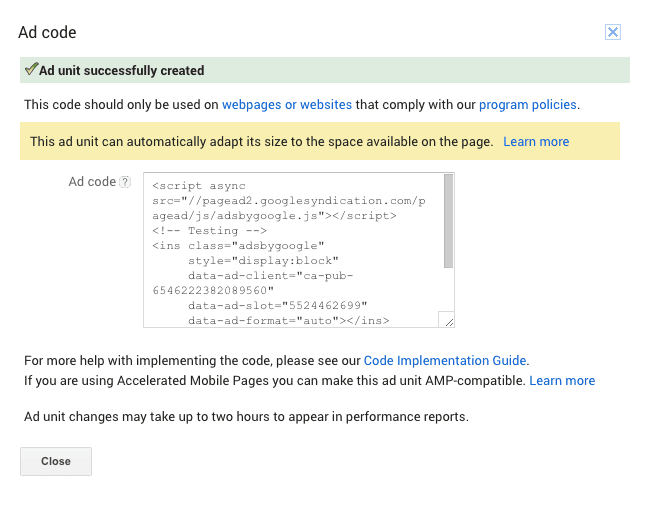 It's that simple. Monitor your results and tweak as you go along.
It will take some time to figure out which sizes work best on your website and the best location to place the ads.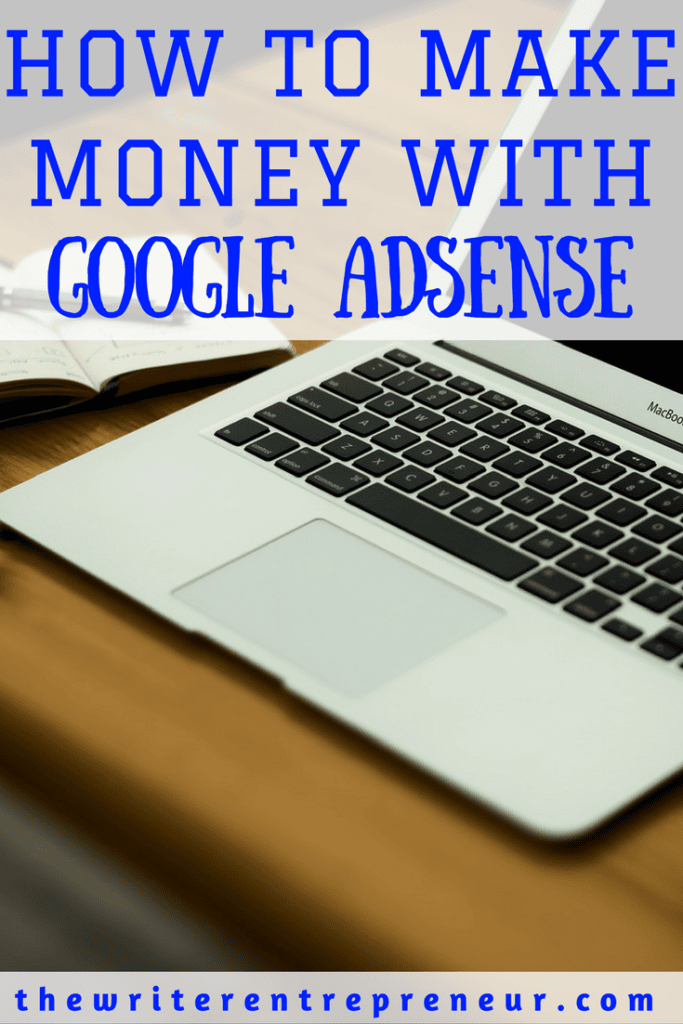 How to Make Money with Google Adsense
I started placing ads on my websites as soon as I launched them but I wasn't quite sure how to utilize them successfully so I barely made any money.
As my websites grew, I realized I was leaving a lot of money on the table so I went into my AdSense account to really learn about how it works.
I started implementing a variety of things on my websites and creating relevant YouTube videos.
Video marketing led to an income boost within a few months. These days, I get a lovely payment from Google every month –
My best advice for making money from Google Adsense is:-
Focus on creating smashing content for your target audience so they can find your website organically

Intensive search engine optimization (SEO)

Marketing your previous content across all platforms effectively. More from the horse's mouth HERE.
How Much Money Can You Make From Google Adsense?
There are a lot of variables involved such as the amount of traffic on your website, your topics, where you place ads, etc but you can make anything from a couple of dollars to thousands every month.
This isn't a get-rich-quick scheme. As with all things, it requires work, dedication, and perseverance before you start seeing results.
Don't get distracted by shiny courses promising to show you the secret to making thousands from your new website within a few weeks.
That's not possible so focus on creating a great website that's optimized for search engines and your visitors.
Dos and Don'ts of Google Adsense Program
Don't click your own ads. You will be banned and don't try to get your friends and family to click it either. Google is aware that you can accidentally click your own ads while scrolling quickly on a mobile or something so they make allowance for that but don't make a habit of it.

Don't try to game Google. You cannot win and even if you do, it will be for only a little while before an update throws your website rankings and income off. Focus on the good stuff – smashing content, content marketing & SEO and you will see results.

Don't place ads in such a way that it compels your visitors to do something before they can access your website. This is a violation that will get your website banned.

Don't place ads on websites that haven't been approved.

Do read the program policies. They are there for a reason and you can get banned for an infraction you didn't know you were committing. I had an issue in the early days when I didn't know what I was doing. Google placed my account on hold and sent me an email notification. I quickly rectified the issue and let them know and my account was restored within a few days.

Do visit sites similar to yours to see how they place their ads and learn a few things. Don't click on their ads unless it's something relevant to you.

Do create your website for Adsense and other programs by using a theme that's already optimized with great support like the Genesis Framework or GeneratePress.

Do get the

right domain and sign up with a reliable host like Siteground, Namecheap, or BigScoots.
It's easier to follow the rules of the program than to restore a banned account.
Depending on the infraction, you will be given the opportunity to address it like I was or you will be banned outrightly without warning.
You can view the Google Adsense complete program guidelines HERE.
Nevertheless, don't place all your income eggs in the Google Adsense basket. Remember to diversify with multiple streams of income.
I've outlined this in the Earn Extra Income series. I earn money via multiple avenues, which I will be breaking down in the series one by one.
Alternatives to Google Adsense
There are many alternatives to Google Adsense but there are only so many ads you can cram on your website before it starts looking ridiculous.
The only other network I tried was Media.net. I carried out an experiment where I nearly broke my back for 3 months using both networks.
In the end, I made three times more from Adsense so I decided to stick to Adsense instead.
This doesn't mean Media.net doesn't work. It could just be it wasn't the best option for my websites at that point in time so, by all means, give it a go.
Other alternatives include Ezoic, SHEMedia, VigLink, Adversal, etc. However, I have never tried these so I can't verify their efficacy.
Check out the earn extra income series to learn about the various options available to make money online and offline without burying yourself in research.
I switched my bigger websites over to Mediavine and I'm seeing a great increase in income. Check out my review of Mediavine Publisher Network.
Anna gave up her 9 – 5 to implement her life plan after paying off over $40,000 in debt. She started The Writer Entrepreneur to share her journey and encourage other people to pay off debt and pursue their life plans. She has been featured on HuffPost, YouQueen & Fitnancials among others. Learn more about Anna HERE.
This post may contain affiliate links which means I will make a small commission if you purchase through those links. Read full disclosure HERE.