Maximizing your online income with these tips for making money through the Amazon Associates program as an affiliate.
This is a continuation of the Make Extra Money with Multiple Streams of Income series.
When I started blogging seriously in 2012, Amazon was one of the first affiliate marketing programs I signed up for.
I was just starting out and wasn't sure about the most effective way to use it but I was so proud of myself when I made $3.63 the first month of blogging.
My income has grown exponentially over the years as I've learned more about blogging. This article will breakdown:-
What the Amazon affiliate program is about

How to sign up for the Amazon affiliate program

The best tips for getting more sales

Creating an optimized website for conversion

How to get paid if you don't live in the US and much more
How Amazon Associates Program Works
Almost everyone in the world is familiar with that smiling from A – Z logo because Amazon is the most popular retailer online.
Amazon is a well-known trusted brand, and they sell everything. It's one of the first places people look at when trying to purchase something online including me.
As an affiliate, all you have to do is place links to products on your website. When people click the links, they're taken to Amazon and once a purchase is made, you get a commission.
Your primary job is getting customers on Amazon. Amazon does a fantastic job of converting customers for you even though the cookie lasts only 24 hours.
It's a simple and effortless program to set up but the big question is how do you get those people from your site to Amazon?
Why should anyone click the links you place on your site? What is the motivation for them to click your links and not someone else's? Read on…

1. Pick a Great Niche You're Interested In
Pick a niche that revolves around topics people are searching for online but a niche you're also interested in.
If you don't love your niche, it will become tedious to continue creating content over time.
The fine line here is picking a niche that doesn't already have a billion other people doing the same thing.
I started with hair and beauty but I've branched out to other subjects I'm passionate about over the years. The hair and beauty website remains one of my top earners today.
If you're confused about picking a niche, Keysearch is a great tool to help with this. Use code KSDISC for 20% off.
You can also use Google Keyword Planner to get some ideas. Your topic has to be about something people are searching for online otherwise it's a waste of your time and money. 
2. Create and Build a Great Website
The greatest niche in the world won't matter without a great site that converts effectively.
Your site should be professional, clean, and come across like you know what you're talking about.
Get a good hosting package through a reliable company like BigScoots or Siteground. Install WordPress and a theme with a clean look.
I love themes from Genesis Framework and GeneratePress.
You can find more tools you need to launch and set up your website on How to Install a WordPress Blog in 30 Minutes or Less for Beginners.
3. Content, Content, Content
You need good content to convert visitors. Don't think you can just right some claptrap, put links and you'll get sales.
That's far from the truth and will likely annoy your readers or drive them away. Create valuable content that is relevant to your audience.
Within that content, refer them to where they can make a purchase if they loved what they read but quality content comes first.
This is why you should choose a niche you're passionate about so you never run out of content ideas.
4. Images
Relevant images are very important. They're great for breaking up content and providing a visual of what you're talking about.
Engaging images also increases the chances of visitors clicking through.
You can find out where to get free and budget-friendly images on How to Install a WordPress Blog in 30 Minutes or Less for Beginners.
5. Driving Conversions
When you choose your niche, focus on one where the products are between $10 – $100.
That's the sweet spot for conversion given the 24-hour cookies when a visitor clicks your link.
A 24-hour cookie means when someone clicks your link, they have to make a purchase within 24 hours in order for you to be credited for the sale and make a commission.
It's easier to convert an averagely sized item than a huge priced item like a TV for instance. This doesn't mean it couldn't happen but it's unusual.
7. Work Harder During the Holidays and Sales Periods
My conversions go through the roof on Mother's Day, Valentine's Day, Christmas, Black Friday, etc.
People spend more money during holidays so create content that addresses those holidays.
Buying guides, recommendation lists, bestseller lists, etc convert well during these periods. Start a few weeks in advance to maximize sales.
6. Basic SEO is Great But Focus on Organic Visitors
Practice the basic SEO concepts on your website but focus on getting visitors organically through Google and other search engines.
Don't try to do funny things or install questionable plugins to artificially boost your rankings.
Google employs extremely smart software engineers every year to figure shit out.
You can't outsmart them and you can't game Google. Trying to game the system can get your site dropped from search engines.
Focus on quality content, good SEO practices, and natural links, and your site will start to grow and see traffic.
How to Sign Up for Amazon Associates
Once your website is up and running, visit the Amazon Affiliates page HERE. A website is required before you can apply for the program.
Before you start, choose the right country in the top right-hand corner. If most of your traffic will come from the US, then choose Amazon US and vice versa.
Create an account or if you already purchased from Amazon previously, you can use the same account if you prefer.
You will need to enter your account information, your website details, etc. Click the agreement then finish the sign-off process.
Once complete, you can visit the tools page to start creating links and getting widgets and other great tools. The best conversions remain links within your blog posts, native ads, and CPM ads.
Below is the basic commission structure for the Amazon Affiliate program. They also have bounties and promotions that pay whenever some signs up. These bounties converted well on my sites.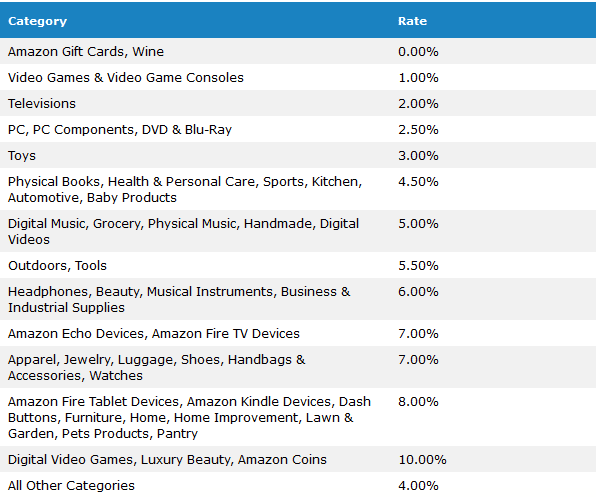 Before you start placing links on your website, go through the Affiliate pages, and really get to know what tools and opportunities are offered.
That way, you'll figure out what's best for your website and how to engage your audience.
Getting Paid from the Amazon Associates Program
There are 3 ways to receive your commissions through Amazon. Via bank transfer, checks, or Amazon gift card.
Bank transfers are only for US-based associates while associates outside the US are paid via checks. Depending on your country, this could prove to be a headache.
You also need to reach a minimum of $100 before you can receive commissions via checks. A great alternative to this issue is getting paid through Payoneer.
You can receive your commissions from $10 with a Payoneer account. Payoneer charges a minimal amount on every transaction and you can withdraw your money to your bank account any time you like.
Below is a screenshot of my Payoneer account with my current balance. I've blurred out confidential information:

You can use Payoneer to receive money from any country in the world in USD, GBP, EUR and JPY. Learn more about Payoneer and create an account HERE.
6 Top Tips for Succeeding as an Amazon Associate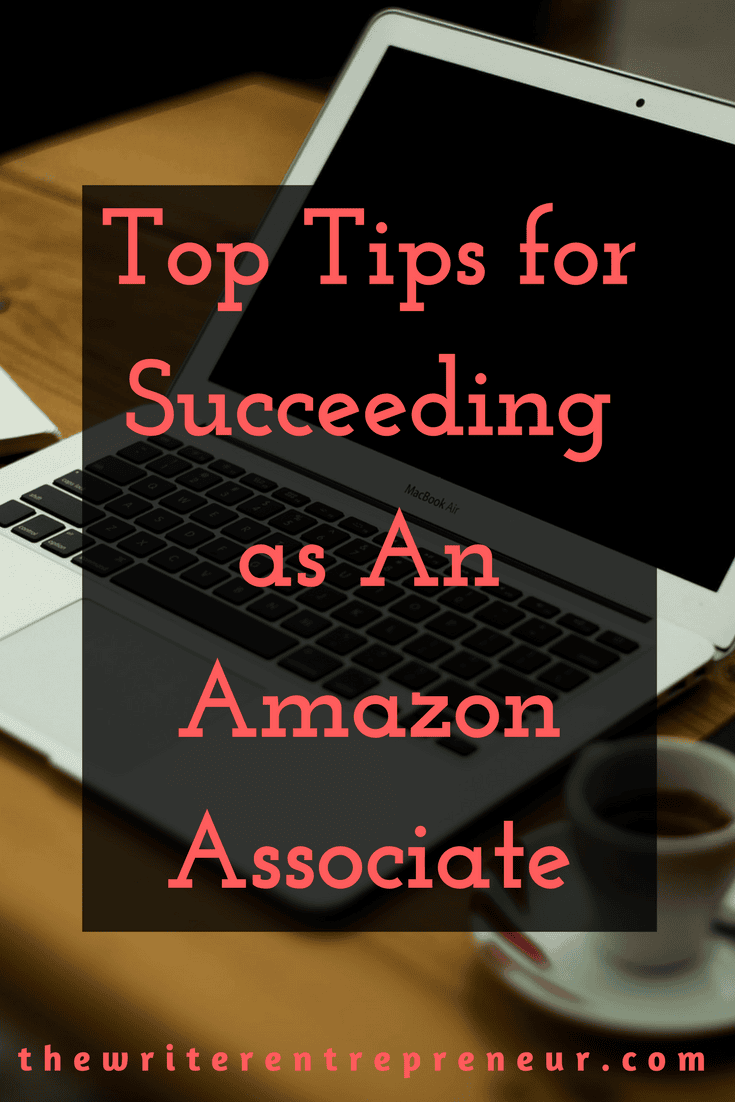 In addition to the six above, below are some other tips that will help you go a long way in helping you succeed as an Amazon associate:
1. Reliable Hosting and Optimal Theme
Sign up for reliable hosting through a company like BigScoots or Siteground, and install an effective WordPress theme.
I love the ones offered at GeneratePress and child themes on Genesis Framework. Great hosting and a fantastic theme make a world of difference.
Related Content: Elegant and Feminine WordPress Themes for Health, Beauty, and Lifestyle Niche
2. Posts That Convert Well
Create bestseller posts based on Amazon's bestseller lists.
They convert very well. One of my sites creates a few "Top 10" posts every month, which generates great click-through and conversions.
3. Engage Social Media
Utilize your social media channels as well to drive traffic to your site.
Unfortunately, there are only 24 hours a day and you can only do so much. Focus on one channel at a time and build up from there.
The most popular remain Pinterest, Instagram, Facebook & Twitter but don't ignore Reddit & Quora.
Read 4 Time Saving Social Media Scheduling Tools for Solopreneurs and Freelancers. 
4. Email Marketing
Build an email list from day 1. I didn't really start doing this until I'd been blogging for nearly 2 years. I know, terrible.
Put sign-up links and boxes in obvious places on your site so people who are interested in hearing more from you can sign up.
My top recommendations for email marketing services include ConvertKit, Mailerlite, and GetResponse.
5. Avoid Shiny Object Syndrome
Don't get distracted by "get rich quick" schemes, manuals, and whatnot. You will waste a lot of your money on this and might end up not learning anything useful.
There are a few resources that will help but tread carefully. Have a look at my recommendations page for some suggestions. 
6. Be Versatile and Experiment
Try out many different things. Test and experiment to find out what works best. Don't just give up because you're not making money as fast as you envisioned.
Final Word on Making Money Through Amazon Associates Program
This isn't a route to instant riches. It will take time, a lot of effort, creativity, and smashing content to get to the place where you're making good money from the program as well as other programs you've signed up for.
I've come a long way since the $3.63 days and I still have a long way to go but I'm learning and doing better every day.
For more tips and tools for breaking into affiliate marketing, check out the Making Sense of Affiliate Marketing Course. It's the only course I recommend for learning about affiliate marketing.
Resources Mentioned in This Article
I've collated all the resources mentioned in this article as an easy reference list below:-
If you have any questions about making money through the Amazon affiliate program, let me know in the comments section.
Anna gave up her 9 – 5 to implement her life plan after paying off over $40,000 in debt. She started The Writer Entrepreneur to share her journey and encourage other people to pay off debt and pursue their life plans. She has been featured on HuffPost, YouQueen & Fitnancials among others. Learn more about Anna HERE.
This post may contain affiliate links which means I will make a small commission if you purchase through those links. Read full disclosure HERE.