This post may contain affiliate links. That means that I may receive a commission at no cost to you if you choose to use the links provided. Thank you for your continued support of this site.
This is a continuation of the Make Extra Money with Multiple Streams of Income series starting with installing a WordPress blog in 30 minutes or less for beginners, which will be followed by setting up the blog, what to do before you start considering any kind of monetization and my best tips for reaching the audience you're looking for.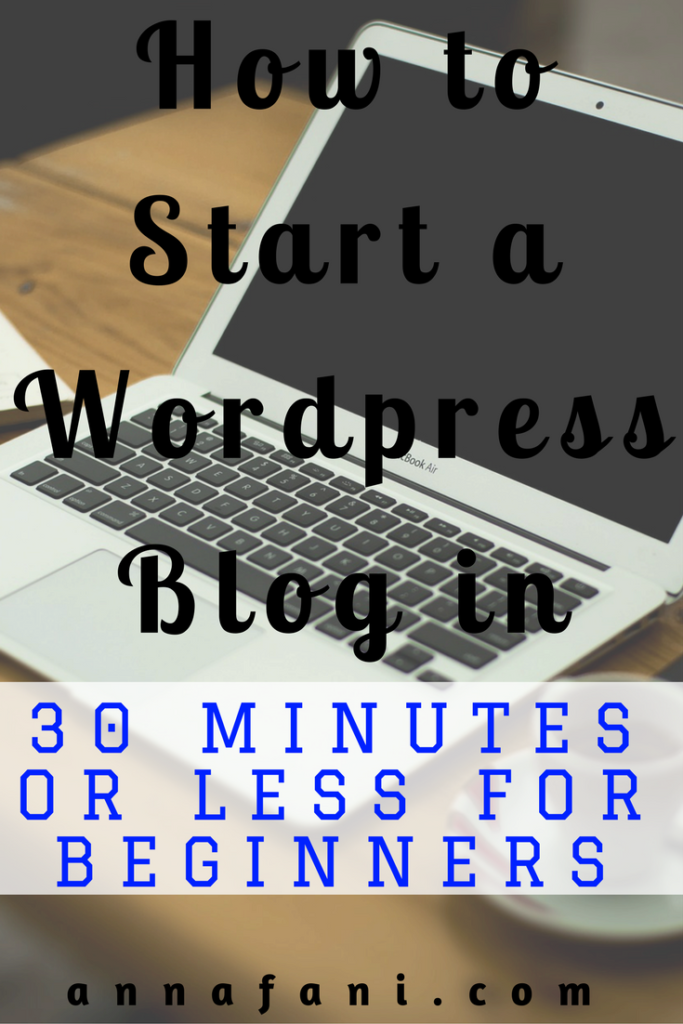 When I started my first blog, it took me months to figure everything out and my research online confused me even more. I would very much have appreciated a simple step by step guide back then.
Choose the Right Domain Name
This is the home of your new blog. What do you want to name it? It should be relevant to your topic but also be on a topic that generates results on search engines. If no one is looking up the topic (s) you're blogging about, no one will find your website.
Before you choose a domain name, do some keyword research to verify if the topic you're interested in is viable. It would suck to blog and blog and blog only to discover later on down the line that you've wasted your time on a topic no one is interested in.
You can use paid tools available online like SEM Rush (7 Day Free Trial) but Google Keyword Planner is free and can be just as useful in this endeavour. You can find other free tools online for this as well. Keep in mind your domain name should be unique, simple, easy to remember, easy to type and shouldn't contain hyphens, numbers or weird misspellings. Additionally, the best domain name extension is either .com or .net.
Once you've chosen a domain name, it's time to check if the domain name is available. You can do this using the tool below:
There's a voluminous amount of information online about choosing the right domain name. Don't get too hung up on the research or you'll never get started. You can click here to purchase your domain name. If you buy hosting through them as well, you get the first year free. 
Choose a Hosting Company
A hosting company will provide a base for your new blog as well as a platform for you to launch from. They will do the techie stuff behind the lines while you focus on the business of blogging. The best thing is hosting costs less than you would spend on a cup of coffee or muffin everyday – less than $5/month!
If you're new to this, start with a basic shared hosting account and you can upgrade according to your site's needs as you go along. For shared hosting, I recommend Bluehost. Bluehost is user friendly, flexible to your needs and have reliable servers.
If you purchase your hosting on Bluehost, you also get a FREE domain for the first year. You can purchase hosting for 12, 24 or 36 months at a time but they work out cheaper if you buy in bulk. The longer your plan is, the cheaper the monthly cost will be. This is a huge money saver if you're just starting out.
Go to Bluehost to purchase a plan (I recommend basic for beginners), enter your preferred domain name or a domain name you already registered, enter your details, choose a password and finalise the purchase. Your domain name is free for the first year if you purchase through Bluehost. Click HERE to get the deal.
If you already purchased your domain name, you need to point your DNS Namerservers to Bluehost. This is very easy and you should find info on how to do this in the help pages of the company you purchased the domain name through. For instance, if you purchased your domain name through GoDaddy, you can find this information at setting name servers for your domain names.
Decide on a Blogging Platform
Blogger, WordPress, Drupal or some other platform for your blog is a big question. You want to start with a platform you can grow and develop your blog with. Migrating from platform to platform is a pain even with the help of a plug in. If your site is comprehensive when you make the switch, it's an even bigger pain. If you're serious about blogging and eventually making an income from it, then my best recommendation is WordPress.
I started one of my sites on another platform and I made only a few dollars here and there no matter how hard I worked. However, once I switched over to WordPress and started making use of the valuable tools available, my income skyrocketed. Even the most technology challenged individual can create a blog via WordPress.
You can install WordPress from the cPanel of your hosting platform with just one click. If you sign up for Bluehost and have any questions along the way, I can also help you. Read on for a step by step guide to install WordPress.
Step by Step Guide to Install Your WordPress Blog on Bluehost
Once you've purchased your domain name (or linked your domain name to your host) and a hosting package, log in to your account and locate your cPanel.
Step 1
Within the panel, look for the icon that says Quick Installs or One Click Installs. If you can't find it, you can quickly search for it with the control + F command on your keyboard.
Step 2
Choose the WordPress icon, which will bring you to a Start button. Click this button to begin installation.
Step 3
Once the installation commences, you will receive a prompt for a domain name to install WordPress on. Choose your domain name from the drop down menu.
Step 4
Afterwards, enter the site title, user name and difficult to guess password and an email address for admin. Do not use admin@yourdomain.com. This is very easy for hackers to get into your site and wreak havoc. Check off the terms and conditions then click install.
Step 5
The installation should take only a few minutes. Once complete, you will receive your log in details via the email address you provided.
Congratulations! Your WordPress blog is ready for you to get started. If you sign up through my link and need any help along the way, feel free to ask in the comments section.
Essential Tools for Beginners to Blogging
When you begin your blogging journey, there are some essentials tools you should have at your finger tips. Below are some of these tools. I will be updating the list in the following weeks but this is a good place to start. 
Branding & Design for Your WordPress Blog
You will need a theme once the blog is up and running. There are many free themes on the Internet but they are usually limited in what you can do with them or how you can modify them. You can search for free themes in the appearance – themes section of WordPress. However, if you'd rather something a bit more professional, Genesis Framework is one of the most popular themes. I also love the themes available on Themeforest.
If you haven't come up with a logo or color concept yet, and are design challenged, you can get someone to help you with that. Fiverr is one of the most popular websites where you can get any kind of gig for $5 with additional elements coming at extra cost. You can hire someone to create a basic logo for you but make sure you've agreed to also receive the source files before you commence the gig. I use Fiverr for all my basic design requirements and only had 1 issue since I've been using the service since 2013, which was resolved swiftly by Fiverr. 
Image Editing
An image is worth a thousand words and you will need to use them on social media as well as within your blog posts. They are more engaging and visually appealing to readers. You can get free images on Wikipedia, Pixabay and Flickr. Remember to check the attrition clause on images.
All the tinkering I do with the images on my sites is with the help of PicMonkey & Canva. You can do pretty much anything with an image on these sites. This is invaluable considering the image can be shared in so many places on the Internet helping you promote your brand. You can edit the images for free on both sites but for more advanced features, membership costs just $3.99/month on PicMonkey. You can pay for individual elements on Canva. 
Page Builder
A page builder is an extremely versatile tool to have. It can save you hours of tinkering around trying to figure out how to make something look like you want. A page builder is a drag and drop tool that helps you build pages and posts on your website; make things look fancy and all laid out nicely. While I have basic knowledge of HTML, I still found a page builder to be a useful time saver. The best page builder for WordPress hands down is Visual Composer. With Visual Composer, you are in full control of your website. Find out more about Visual Composer HERE.
Google Trends

Google Trends is a tool that helps you find out the search volume for a particular item or phrase. This will help you to determine what kind of topics you should write about and/or focus on in the present as well as for the future. This will help tremendously with search engine rankings. This is a free resource provided by Google. Create an account and learn more HERE.
Google Analytics
Another immensely useful tool from Google. Google will provide a code to include on your website. This code will track all your website traffic and activities and provide a comprehensive report enabling you to do more of what works and tweak or eliminate what isn't working. Create an account and learn more HERE.
You're all set to start your blogging career with the basics above. As the weeks go by, I will be uploading a series of articles regarding monetization, basic SEO techniques, best plug ins for optimal websites, and the tips and tricks I use along the way to build all my sites and generate income.
Email Marketing
You should start to build an email list from day 1 of your blog. This list will become the most important thing in your business as you grow. There are many many email marketing services out there but the one I use and recommend, which also happens to be budget friendly is mailerlite. I can't say enough about their awesome services and customisation options, which even the most technologically challenged person can utilise. Learn more about mailerlite HERE. The first 1,000 subscribers are free so don't worry about having to pay for your list initially. 
{{Privy:Embed campaign=404712}}