Continuing the side hustle ideas series, today I'll be exploring how to generate extra income by becoming a proofreader with the Proofread Anywhere program.
Have you ever considered proofreading as a career or a side hustle? Did you know proofreaders make as much as $50,000 every year? I'm going to break down this lucrative side hustle idea in this post.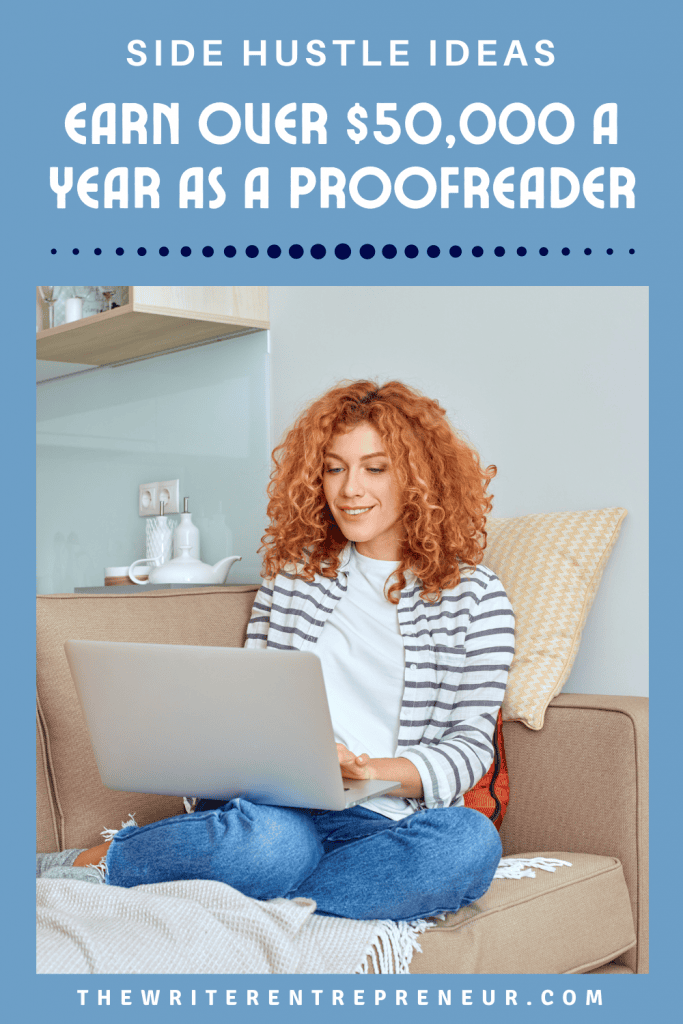 The side hustle ideas series shares tons of side hustle ideas you can start along with your full-time job to make some extra money or take on in-between jobs.
You can catch up on the previous articles in the series at Side Hustles.
Tips, Tools, and Resources for Breaking into the Proofreading Industry
Proofreading is a career that makes the work from home lifestyle very appealing.
If you're good with spotting errors in spelling and grammar, a proofreading career might be just on the table for you.
What Exactly is Proofreading?
Proofreaders take content written by someone else and go through it with a fine-tooth comb. They check for any grammar errors and aim to make the content perfect.
Obviously, you're only going to love this kind of gig if you're one of the grammar police.
A proofreading career can be quite lucrative and you don't even need that many clients to maintain a steady stream of income.
One of the ways to break into this industry is by taking a reputable course and getting a hang of the basics and what clients usually look for.
Read on for an in-depth analysis of the Proofread Anywhere course, how to sign up for it, what people are saying about Proofread Anywhere and the best tips and tools to get started with your proofreading career ASAP.
Proofread Anywhere Coupon Codes
Proofread Anywhere is offering 60% off both their flagship courses on Black Friday through Cyber Monday. The offer runs from Nov 24 until 1:59 pm PT on Nov 29. BUY HERE.

What is Proofread Anywhere?
Proofread Anywhere is an online proofreading course that was created by Caitlin Pyle and launched in 2015.
She had been working in the proof-reading industry since 2007 and released an e-book in 2014, which subsequently led to the creation of Proofread Anywhere.
Since 2015, thousands of students have taken the course and gone on to launch successful freelance proofreading businesses.
Caitlin and Proofread Anywhere have been featured in Business Insider, Forbes, The Penny Hoarder, and more.
Caitlin combined all of her proofreading knowledge into Proofread Anywhere, which includes 2 courses:-
General Proofreading – Theory & Practice – proofreading blogs, articles, and blogs, not too technical with a shorter learning curve.
Transcript Proofreading – Theory and Practice – proofreading legal documents, more technical with a higher earning potential due to the more technical skills.
The Proofread Anywhere course covers the basics of proofreading and how to turn this knowledge into a profitable part-time or full-time hustle.
You'll learn how to find clients, structure your business and provide immense value to your clients.
Proofread Anywhere Promise
Proofread Anywhere is a proven system to create sustainable income for yourself doing what you enjoy.
Practical set by step instructions that are easy to follow and help you confidently progress from module to module.
Everything proofreading is covered in Proofread Anywhere. From the basics to marketing and much more.
Friendly support and interactive student community during and after the course.
Is Proofread Anywhere Legit?
There are a lot of scams online and it's totally important to carry out due diligence before you shell out your hard-earned money.
If you've been following The Writer Entrepreneur for a while, you know I only recommend products and services I have experience with and/or have thoroughly researched.
Proofread Anywhere is a legit course and the online go-to course if you're looking to start a side hustle making money in the proofreading industry.
And if you're hesitant about signing up for the course, you can always take this FREE 76-minute workshop to determine if Proofread Anywhere is right for you.

What's Included in Proofread Anywhere?
General Proofreading – Theory & Practice includes 9 modules with over 40 lessons and they are broken down as follows:-
Module 1: Introduction to General Proofreading
Module 2: Get into the Proofreading Mindset
Module 3: Proofreading Basics
Module 4: Proofreading Methods and Practice
Module 5: Turning Proofreading into a Business
Module 6: Looking for Jobs
Module 7: Once You Get the Job
Module 8: Getting the Most Out of the Freelancing Life
Module 9: Ignite Plus Exam (this is accessible to only Ignite Plus students)
Transcript Proofreading – Theory and Practice includes 2 sections in 9 modules with 30 lessons and they are broken down as follows:-
Section 1
Module 1 — Introduction to Transcript Proofreading
Module 2 — The Nuts and Bolts of Transcripts
Section 2
Modules 3 & 4 — Marking Up Transcripts (Four Methods)
Module 5 — Simulation Transcripts
Module 6 — Corresponding Within the Court Reporting Profession
Module 7 — Billing and Accounting Procedures, Final Examinations
Module 8 — Marketing
Module 9 — Concluding Lesson
Transcript Proofreading is a bit more complicated and focused on legal proofreading as opposed to General Proofreading, which is focused on proofreading blogs, articles, e-books, books, etc.
If you're new to the proofreading world, you definitely want to start with the General Proofreading course.

Proofread Anywhere Bonuses
There are also several bonus options included in all courses and levels:-
Look Better in Writing Handbook of Commonly Misused (and Abused!) Words
The Ultimate Freelancer Tax Guide
The Work-at-Home Survival Guide
The Mindset Mastery Guide
Money Mindset Transformation Workshop and Workbook
Proofread Anywhere Facebook Community
How Much Does Proofread Anywhere Cost?
There are 2 levels to General Proofreading – Theory & Practice:-
Ignite Level which costs $497
Ignite Plus Level which costs $597 (includes an exam, a completion certification, listing i

n the

Self-Publishing School (SPS) preferred outsourcer directory, and membership in the Facebook marketing mastermind group).
Transcript Proofreading – Theory & Practice has 4 payment options (pay as you go as you advance to certain levels). The costs come to a total of $1,174.
Level 1 – $77. Access to Module 1 for 7 days.
Level 2 – $197. Adds Module 2 for an additional 30 days.
Level 3 – $400. Adds Modules 3 – 5 for an additional 60 days.
Level 4 – $500. Adds Modules 6 – 9 with lifetime access to the entire course.
You can opt-out at any of the levels and decide you don't want to continue and you won't have to pay any more money.
Is Proofread Anywhere Worth It?
The cost for both courses might look high to you but think about it. For under $500, you can learn how to start a profitable proofreading business and hit the ground running within a few months.
The initial investment is minimal and you will keep generating income from this skill for years to come and maybe even teach other people.
Plus you continue to receive support even after the course is completed. It's well worth the investment.
However, you don't have to take my word for it. You can always sign up for the free webinar to get a better idea and make an informed decision before you sign up for Proofread Anywhere.
How Much Do Proofreaders Make?
There is a high demand for proofreaders around the world and you don't need to be located in a specific country to work in the proofreading industry.
The pay rate for proofreaders varies depending on experience, turnaround time, and script type.
However, as of September 2021, the average yearly earnings for a proofreader in the US is approximately $52,391.
This is an estimated salary working for a company full time as a proofreader.
If you're self-employed, it's hard to put a specific amount on it but about $30,000 a year for a beginner is a reasonable estimate.
Can You Work from Anywhere As a Proofreader?
You can adapt the course content to anywhere you're located and you can work from anywhere as a proofreader.
All you need are a laptop, reliable internet connection, video communication software, a website people can reach you on and you're good to operate from anywhere in the world.
Where to Find Proofreading Jobs?
The Proofread Anywhere course includes four modules dedicated to finding proofreading work and/or managing your freelance business!
Additionally, you can advertise your proofreading services on websites such as Fiverr in the beginning.
As you become more experienced, you can move on to bigger websites like ProofreadNOW.
What People Are Saying About Proofread Anywhere?
The reviews for Proofread Anywhere are mostly positive but there are a few negatives that I've seen come up a few times:-
Once you log in to start Proofread Anywhere, there are no refunds unfortunately so definitely make sure you're interested in it before investing in Proofread Anywhere.
Since there are no payment plans for Proofread Anywhere, you will have to make full payment upfront before you can commence the course, which might be challenging for some people. You may want to save up for it first before you start the course or put a repayment plan on your credit card instead as long as it's at 0% interest.
Other Side Hustle Ideas
Anna gave up her 9 – 5 to implement her life plan after paying off over $40,000 in debt. She started The Writer Entrepreneur to share her journey and encourage other people to pay off debt and pursue their life plans. She has been featured on HuffPost, YouQueen & Fitnancials among others. Learn more about Anna HERE.
This post may contain affiliate links which means I will make a small commission if you purchase through those links. Read full disclosure HERE.